Tensor Tire Parker "250" Sets Record Attendance, Sees Great Racing as 330 Motorcycles, Quads, and UTVs Battled for Desert Supremacy
Posted February 22, 2021
FOR IMMEDIATE RELEASE: LAS VEGAS, NV (February 22, 2021): The dust is only now settling in Parker, Arizona with the Tensor Tire Parker "250" wrapping up over the weekend. Racer attendance shattered previous records with 330 registered entries all competing for Motorcycle, Quad, and UTV Parker "250" titles as well as secure points for the Maxxis Triple Crown which will lead to a huge season-ending payout for Best In The Desert racers. Stakes were high at the 2021 Tensor Tire Parker "250" as evidenced by the depth of the field and the extremely close racing in every class.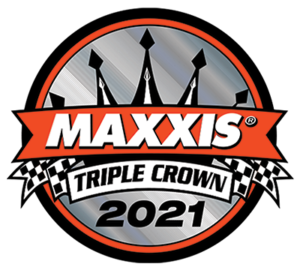 The weekend started fast with a general feeling of eager anticipation. Thousands arrived in Parker, Arizona Friday, February 19, 2021, for the Parker Downtown Experience which included Tech and Contingency and Best In The Desert's Event Expo featuring a variety of sponsor booths. The weather was beautiful and everyone enjoyed being outside with like-minded off-road enthusiasts while adhering to COVID-19 safety guidelines including social distancing and masking. Last-minute racer registration lasted until dusk in order to accommodate a record number of walk-up entries. The classes were stacked with veterans and newcomers alike, hungry for the chance to rev their engines. 
The racing started Friday, February 19, 2021, with the 4WheelParts UTV Youth Races. While these racers still have a lot to learn in the off-road racing world, their ambition and endurance are impressive. Regrettably, there was a problem with the scoring and results are being calculated manually and not available at this time. Pending final verification of results for Friday's racing, Best In The Desert will release results as soon as they are finalized. 
The full 250-mile racing started early on Saturday, February 20, 2021, with the Motorcycle and Quad Classes starting at first light and the UTV Classes starting later at 1:00 PM. While all eyes were on Open Pro #1 Plate-Holder Hayden Hintz hoping to defend his 2020 Championship title, it was Nic Garven who proved he was locked and loaded from the start. Despite a back start position, Garvin came from behind and beat a stacked field of racers with a time of 4:31:54. Joe Wasson also started well back but followed Garvin across the line with a time of 4:34:16 while KTM rider Nic Colangeli rounded out the podium with 4:26:24. Other notable finishers included Zane Roberts, Jeff Trulove, and Danny Cooper. Most of the riders in Open Pro braved the course riding solo; an impressive feat that made for intense spectating. 
Additional Motorcycle Classes that saw some excitement included the Over-30 Pro-Class. This class also fielded a strong rider list with Bryce Stavron from San Clemente, California taking home the class win followed by Danny Cooper and Brandon Tipton. The Ironman Pro Class was won by Zach Myers in 5:10:06 with Jarret Curley and Dave Lahn finishing second and third place, respectively.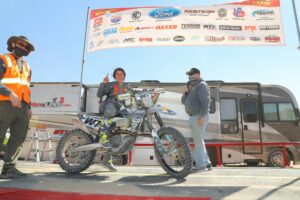 The Women's Motorcycle Class also got some well-deserved attention with Britney Gallegos taking the top spot riding Husqvarna, besting Ashlee Gage and Kimberely Loppnow, both on KTMs. The women's field continues to grow both in attendance and skill and Best In The Desert is excited to see the caliber of racing become more competitive. 
The Quad Class also saw some fierce racing in the swirling dust but in the end, it was Jesus Ramirez who took home the Parker "250" Pro Class title in 5:47:57 followed by Sean Loodus and Howard Tande filling in the podium. 
Many spectators waited all day for the much-anticipated battle for supremacy in the UTV Classes. The UTV Pro Open Class ran for the first time at the Tensor Tire Parker "250" and featured Mitchell Alsup, who took home the win in 5:04:04, followed by Caitlee Walker, and Dan Fisher. The new Pro Open Class is designed to allow for a wider range of UTVs and will provide a more logical structure for Best In The Desert's UTV division. 
The battle for overall UTV Champion came down to recognizable names at Best In The Desert UTV races. In the end, Polaris driver Mitch Guthrie Jr. earned a much-deserved overall win and Pro Turbo class victory with a time of 4:42:26, beating out 44 of the best Turbo Pro riders in the world. Bruce Binnquist came in close second finishing only 1:54 behind, crossing the finish line with 4:44:20. Maxxis Tires-sponsored Dustin Jones representing Shreveport, Louisiana rounded out the podium with a finishing time of 4:50:28. Other notable drivers included reigning Turbo Pro champ Phil Blurton who suffered from brake failure finishing in fourth place; Vito Ranuio driving his Can-AM into fifth; Jax Redline crossing the finish line in sixth place, and Randy and Sierra Romo in seventh and eighth place, respectively. 
The UTV Unlimited Class also drew a large, competitive field with 25 entries. Perennial-champion Michael Isom took the title in this class with a well-earned finish of 4:57:20, beating out UTV veterans Randy Rashien finishing in second place by less than a minute and the up-and-coming UTV star Chris Blais finishing in third place with 5:05:51. In the Pro NA class competition, #1827 Carson Wernimont brought home the win, Kawasaki's first Pro NA Class win in an amazing time of 4:58:83. The time put Carson at eleventh place overall. Josh Row came home second in class at 5:13:16.
Finishing the day last but certainly not least, racers in the Rally UTV Class showed up to win. While the rest of the UTV Classes completed four laps on the course, the Rally UTV Class only completed three, but what a three they were. Ultimately, Justin Smith from Whitman, Arizona came home first with 3:58:07 beating Kailee Olliges, Mikey Kelley, and Jack Olliges. The Olliges family is legendary in the off-road racing world and Smith better watch his back in future competitions! Also notable in this class was first-time driver Rick Ness, famous for his role in the reality TV series Gold Rush on the Discovery Channel. The film crew was able to capture Ness finishing in fifth place for his first time racing in the desert which will air later this year in a special Gold Rush episode.
Other UTV Class winners included #R952 Jonathan Mcvay in the RS1/NA class, #U987 Mikey Kelly in Pure Stock, and #s907 Brody Aikins in Sportsman.
The second race of the 2021 Best In The Desert series saw huge crowds who were respectful and cognizant of COVID-19 safety protocol. By streaming Driver's Meetings online and staggering registration, congregations and close contact were kept to a minimum. Compliance was appreciated by the BLM and Parker town officials. Everyone felt safe and were considerate in order to help keep these events going in the future. 
Tensor Tire Parker "250" results can be found here. 
The third Best In The Desert race will be the All Terrain Concepts UTV Legends Championships in Laughlin, Nevada on March 25-March 28, 2021. The race is open only to UTV classes and registration can be found here. 
###
Thanks to our sponsors!