500 Plus Mile Casey Folks "Vegas to Reno" Riddled With Dust, Rocks and Speed
Posted August 20, 2019
500 Plus Mile Casey Folks "Vegas to Reno" A Love-Hate Relationship Riddled With Dust, Rocks and Speed
Las Vegas, Nevada (August 19th, 2019)  A record 363 entries took the green flag at the 23rd running of the "The Longest Off-Road Race in the United States," The General Tire Casey Folks "Vegas to Reno" presented by FOX, and when it was said and done many of the biggest names in the sport found their way to the winner's circle. This year's course featured 500 plus grueling miles of every type of off-road challenge the Nevada desert could muster. Silt, rocks, mountain passes and several high speed sections, with one team reporting speeds over 130 MPH. More importantly this year's V2R drew a who's who of off-road racing's best. Matney, MacCachren, Lofton, Voss, Herbst, Thompson, Smiley, Terzo and Olliges were up to the challenge on the Trick Truck side.  But when the dust settled it was Bryce Menzies AWD truck that came out on top. The win marked Bryce's first V2R overall victory and the first for the AWD but it didn't come easy. "We started first, but it was definitely a day of ups and downs. Early on we were locked in 4th gear as we watched Rob MacCachren, Justin Lofton and Justin Matney pass us by, but were able to fix the issue in the pits. Then we lost a cooling fan, but this gnarly AWD charged back through the dust, and the unbelievable rocky portion at the very end, to bring us the victory. Thanks Best in the Desert!"
Last year's 2nd place finisher, Jason Voss, started at the back of the Trick Trucks as a result of a fire at Time Trials, but worked his way up through the pack and finished second. Menzies had to wait at the finish to see if Voss would overtake his time, but Menzies prevailed and grabbed not only the Trick Truck but also the Overall win.
While not every team finished, every team had positive things to say about the event. A quick look through the other classes reveals that anyone and everyone worth their salt in off-road racing showed up to do battle.   Catch all the action of the Vegas to Reno race on NBC Sports on October 26 at 1:00 pm*
Following are some of the other class winners:
MENIZES AT SPEED ON HIS WAY TO VICTORY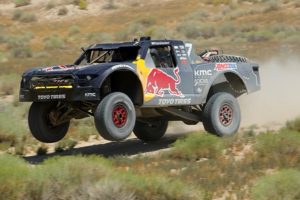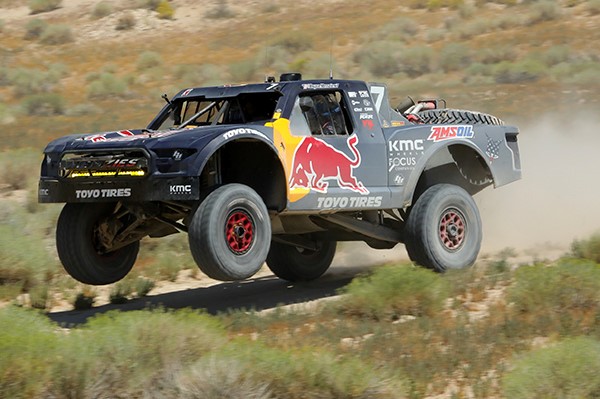 CJ HUTCHINS TAKES CLASS 1500
Class 1500 was a duel between CJ Hutchins and Cody Parkhouse, with Hutchins taking the win in
Class and 2nd overall behind Menzies.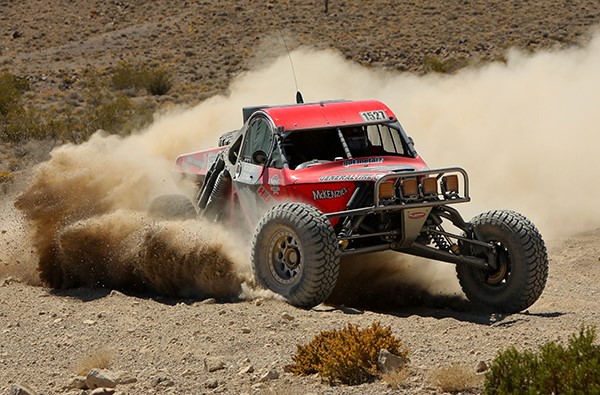 CAMBURG RACING CAPTURES 6100 CLASS
Camburg Racing took home the win with Kyle Jergenson behind the wheel.
After placing first in Time Trials, the 6100 truck of Camburg Racing
had the best shot at winning and took home the win over Travis Chase.
PHIL BLURTON DOES A TRIFECTA
1st UTV Turbo is once again Phil Blurton, his third Vegas to Reno win.
Plus he finished an amazing 21st overall, incredible time for a UTV.
SETH QUINTERO IS FIVE FOR FIVE!
Seth Qunitero, in his Red Bull tagged Polaris just keeps on winning,
and this is five in a row, keeping his perfect season alive! Congrats Seth!
SKYLER HOWES SOLOS TO HIS 8TH WIN
Soloing 500+ miles is no easy feat, but with his 8th win,
Howes keeps showing how strong he and the KTM is built.
Laughlin Desert Classic Next up for Best in the Desert
Coming up October 10-13, 2019, is the 4th Annual Method Race Wheels Laughlin Desert Classic presented by Jimco, the last Best in the Desert race this year. We are excited to be back in Laughlin!  Festivities begin on Thursday, October 10, so come early and get involved in all the event has to offer!  We have great race sponsors in Method Race Wheels, Jimco, and Laughlin Tourism Commission. We thank you for your support and look forward to seeing you at Laughlin for some exciting racing at this stellar venue.
* Time and date subject to change, check BITD.com
For full race results check out the links:
– Car Truck overall race results
– Motorcycle/quad overall race results
Follow the action of the Lucas Oil Production Studios broadcasts of Best In The Desert events on the NBC Sports Network and MAVTV.
About Best In The Desert
Best In The Desert is recognized as the largest professional desert off-road racing organization in North America holding multiple off-road desert races. The philosophy of the organization is to provide top quality, World Class Off-Road Racing events, and more importantly to make those events exciting, spectacular, fun, different, well paying, and most of all, affordable. Based on over three decades of experience, and on years of sponsoring and promoting successful local and national events, Best In The Desert has achieved new levels in the sport of off-road desert racing. Best In The Desert, along with its racers and sponsors, enjoys recognition and exposure that sets it apart as "The American Off-Road Racing Series".
FOR SERIES INFORMATION:
Contact Liz Marshall at Best in the Desert at bitd@bitd.com or
by calling 702-457-5775
FOR MARKETING/SPONSORSHIP OPPORTUNITIES:
Contact Scot Harden at marketing@bitd.com or by calling 951-491-1819
2019 Best In The Desert official sponsors: Ford Motor Company – Official Truck, General Tire – Official Tire, Polaris RZR – Official UTV, VP Racing Fuels – Official Fuel, Rugged Radios – Official Communications, Fabtech – Official Suspension, KC HiLiTES – Official Light, Lucas Oil Products – Official Oil, Beta Motorcycles – Official Motorcycle, Method Race Wheels, Trophy Tractor, Tuba Art Films, DirtNation.com, R-N-R Steel, Camburg, Tactical Recovery Equipment, Sportsman Cycle Sales, Dicks Racing Suspension, Action Sports Canopies, Metroprint, Fall Advertising, Rhinohub, McKenzies, Slime
Life is an Adventure.
Come Live Your Adventure with Best In The Desert…
THE AMERICAN OFF-ROAD RACING SERIES
Further information is available at:
www.bitd.com
email: bitd@bitd.com
phone: (702) 457-5775
Media Contact:
www.fallads.com/bitd
email: mediabitd@fallads.com
russt@fallads.com
donaldf@fallads.com
Photos provided by Harlen Foley, DirtNation.com
NBC Sports photo provide by Daniel Curiel Photographic
Important notice:
THE USE OF DRONES WILL NOT BE ALLOWED AT ANY BEST IN THE DESERT EVENT. Please be aware, Drones are VERY DANGEROUS to the safety of all concerned, both people in the air and on the ground.
Copyright © 2019 Best in the Desert
unsubscribe from this list    update subscription preferences
Thanks to our sponsors!