BEST IN THE DESERT WRAPS UP 2019 RACE SEASON WITH A BANG
Posted December 23, 2019
Year-End Awards Ceremony Crowns 2019 Champions
LAS VEGAS, NV (Dec. 23rd, 2019) – Best In The Desert, the largest off-road racing series in North America, wrapped up its 2019 race season with a huge party and awards ceremony on Saturday, Dec. 21st at the Sunset Station in Las Vegas. On hand were class champions, overall champions, and recipients of several individual awards, including the Camburg Award, the Trick Truck Challenge Cup, and the coveted Casey Folks Perseverance Award.
The Year-End Awards Banquet represents the culmination of Best in The Desert's 36th year as the premier off-road desert racing organization and, following a trend from recent years, 2019 was yet another groundbreaking year for the series. Altogether more than 2000 entries across 42 different classes entered Best In The Desert series races to determine who was the fastest competitor in their respective divisions.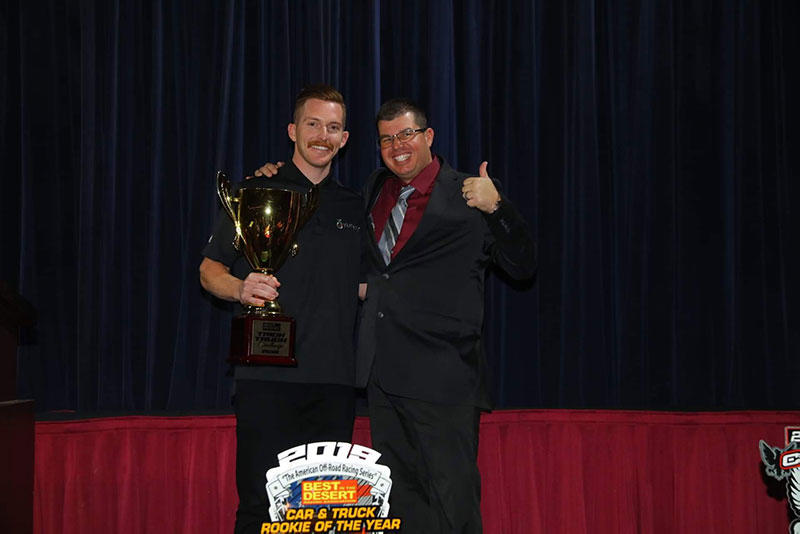 Taking home top honors in the premier class of off-road racing, the Trick Truck Champion was Jeff Terzo. Jeff has chased a Best In The Desert Trick Truck Championship since 2014, and 2019 was the year that everything came together for the affable racer from Orange County, CA. Coming out on top in the highly competitive Class 6100 was Brock Heger. Consistency and class wins were instrumental in taking home the honor. In the UTV class, Best In the Desert crowned three premier class champions, Seth Quintero in Pro Production Class, Michael Isom in the Pro Unlimited Class and Mitch Guthrie Jr. in the Pro Turbo Production Class. Mitch also took home the UTV Grand Champion Award. Warren Healey was Grand Champion in the Motorcycle Division, and Erin Simmons dominated the Quad class as its Grand Champion for the second straight year. In a sign that the future of the vesport is in excellent hands, 12-year old Jack Olliges was the 2019 UTV Rally Class Champion. Last but not least, Jeff Bader won Car and Truck Rookie of the Year, cementing his reputation as the future of off-road racing.
Steve Olliges was awarded the Camburg Award for the second straight year for having the overall lowest elapsed time throughout the series, which is a remarkable accomplishment given all the challenges and the sheer number of miles raced in 2019. Jeff Terzo also took home the Trick Truck Challenge Cup, which along with his Trick Truck Championship, capped off his best year yet with Best in The Desert. The highlight of the ceremony and perhaps the most coveted award of the evening, the Casey Folks Perseverance Award went to Chris Blais. Chris, a former Vegas to Reno motorcycle champion and the last American to stand on the podium at Dakar, has been an inspiration to countless racers. Battling back from a spinal injury and continuing to compete at the highest levels in UTV class racing, Chris is known for his incredibly positive attitude and his willingness to help out and support his fellow racer.
And in one final tribute to all the volunteers that are the backbone of Best In The Desert, Lee Avery was named Volunteer of the Year. Lee has been volunteering at checkpoints and road crossings since the 2008 Vegas to Reno event. In 2019 his dedication to keeping off-road racing safe for the competitors was evident when he attended the Laughlin Desert Classic the day after his daughter's wedding.
"We want to congratulate all the champions for their amazing accomplishments in 2019", commented Best In The Desert CMO Bryan Folks. "Winning a series championship is a tremendous accomplishment. More importantly, we want to thank everyone who raced with us in 2019. We are so grateful for the support we receive from the racing community. My father would be proud to see how our series has grown these past three years. We look forward to bigger and better things in 2020."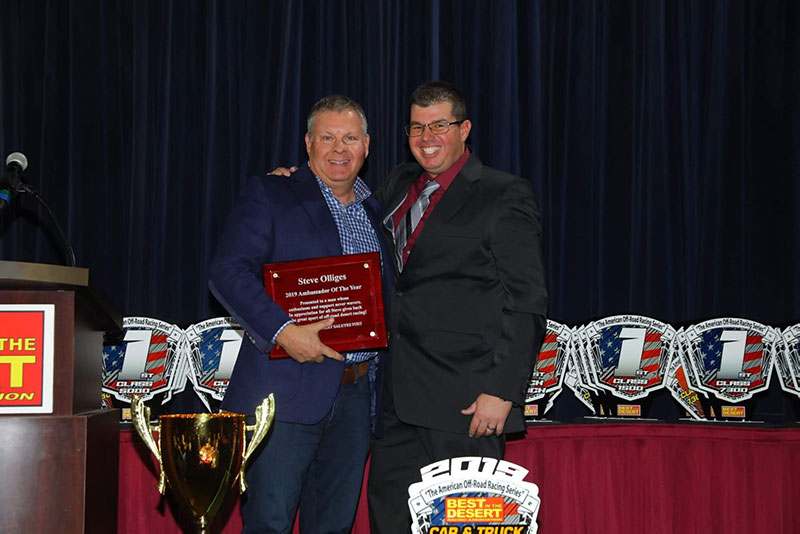 "2019 was a remarkable year of racing with class championships coming down to the wire", said Donald Jackson, Best In The Desert Operations Manager." Championships should be a battle all year long and not won part way through the season. This year was no exception with almost every class championship determined at the final event which shows how competitive the "American Off-Road Racing Series" has become and continue to grow by providing safe, family orientated events. I want to give a huge Thank You to the Best In The Desert Staff and Volunteers. Their dedication is what makes these events so successful"
Following is a complete list of 2019 Best In the Desert Series Champions:
Car/Truck Classes
Trick Truck – Jeff Terzo
1500 – CJ Hutchins
1000 – Conner McMullen
2000 – Christy Sizelove
5000 – Travis Chase
6000 – Travis Williams
6100 – Brock Heger
6200 – Nick Carolan
7100 – Todd Walter
7300 – Chad Hall
Jeepspeed
1700 – Rob Seubert
3700 – Robert Thomasson
4700 – Billy Bunch
UTV
Turbo – Mitch Guthrie Jr
Production – Seth Quintero
Unlimited – Michael Isom
Rally – Jack Olliges
Motorcycle & Quad
Open Pro – Skyler Howes
300 Pro – Mason Klein
O-30 – Pro Carl Maassberg
Quad Pro – Erin Simmons
Open Exp – Ryan Parszik
Open Am – Anthony Monachelli
300 Exp – Daniel Markley
O-30 Exp – Rhett Ogden
O-50 Exp – Doug Clark
Ironman Exp – Warren Healey
Ironman Am – Dean Hawley
Quad Exp – Bill Pierson
Quad IM – Exp Brandon Sahlstrom
Grand Champions
Car Truck – Brock Heger
Motorcycle – Warren Healey
Quad – Erin Simmons
UTV – Mitch Guthrie
Rookie of the Year
Car Truck – Jeff Bader – 6166
UTV – Billy Long – T907
Trick Truck Challenge Cup Champion
Jeff Terzo – 37
Ambassador of the Year
Steve Olliges – 27
Camburg Best In The Desert Award
Steve Olliges – 27
Ford Long Haul Year-End Awards
Motorcycle/Quad – Danny Cooper
UTV – Michael Isom
Car/Truck – Steve Olliges
Best In The Desert's 37th season of racing starts on January 10th – 11th, 2020, with the Tensor Tire Parker 250 Presented by Polaris.
Sponsors: Ford Trucks, Polaris, General Tire, Rugged Radios, Beta Motorcycles, Lucas Oils, Fabtech, KC HiLites, Method Race Wheels, Trophy Tractor, VT Construction, Impact, RnR Steel, GMZ Race Products, BlueWater Resort and Casino, Fox, Action Sports Canopies, Sportsman Cycle, Dick's Racing, Fall Advertising, McKenzies and Slime.
FOR SERIES INFORMATION: Contact Liz Marshall at Best in the Desert at bitd@bitd.com or by calling 702-457-5775.
FOR MARKETING/SPONSORSHIP OPPORTUNITIES: Contact Scot Harden at marketing@bitd.com or by calling 951-491-1819.
Thanks to our sponsors!