Kyle Jergensen
26-year-old Kyle Jergensen is certainly making a name for himself in a relatively short time. Since he started to drive for Brenthel Industries, he's been stacking up podium wins, including winning the 2021 Best In The Desert Trick Truck Championship Series and the 2020 Best In The Desert 6100 Championship Series.
While Jergensen is certainly on a winning streak (at the time of publication, he had just won King of Hammers and the Mint 400), he isn't new to the sport. Jergensen grew up racing motorcycles and exploring the off-road trails around his hometown of Hesperia, California.
His parents Todd and Shirley both have their own decorated histories in off-road racing. Shirley won powderpuff races in class one three years in a row before attention turned to Kyle's racing career. Going fast is in the Jergensen blood.
Kyle started out racing motorcycles before starting to navigate for his dad in a car at 12 years old. Pretty soon, Kyle was sitting in the driver's seat at 15 years old. While it wasn't an easy road to the podium and it's not like he started winning all the time right away, Kyle loved racing off-road and the community it comes with.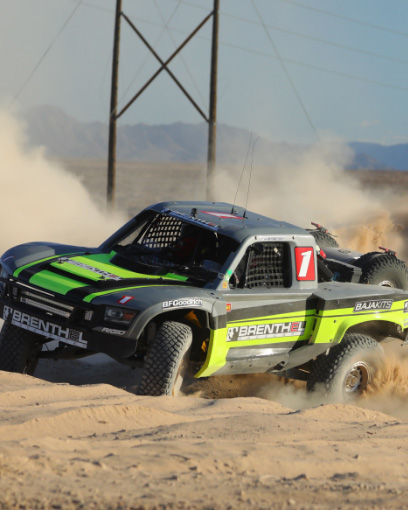 Shortly after finishing high school, Kyle started navigating for Jonathan Brenthel and perhaps this can be considered pivotal for Kyle's racing career. Jonathan Brenthel is no stranger to the off-road racing world, competing for years before he and his brother Jordan started Brenthel Industries, a brand specializing in building off-road racing vehicles. And though Kyle didn't drive with Jonathan forever, it solidified a relationship that would prove to be pretty advantageous for both of them.
A few years ago, Kyle got a call from Jonathan asking him to race their trucks. Kyle thinks it was just luck of the draw but he had been having some success competing in the 6100 class, qualifying first at the Silver State 300 (his favorite Best In The Desert race). Jonathan clearly saw something that Kyle might be too modest to admit.
Kyle Jergensen and his co-driver Shawn Shanks went on to take the 2020 Best In The Desert Series Championship in the 6100 Class driving a Brenthel Industries car. And that was only the beginning.
2021 started off hot and Kyle podiumed at every Best In The Desert event, save Vegas to Reno.
While he is a big fan of the 6100 class, the Brenthels requested he move to the Trick Truck Class which proved to be a fine move. Kyle went on to win the 2021 Best In The Desert Series Championship in the Trick Truck Class, along with the Maxxis Tires Triple Crown title.
2021 Cal City Desert Challenge
1st Place
2021 Laughlin Desert Classic
2nd Place
2021 Vegas to Reno
4th Place
2021 Silver State 300
2nd Place
2021 Parker 425
3rd Place
He says of the competition racing Best In The Desert:
"There are some really good drivers out there. Obviously, the Concrete Motorsports team, Kevin Thompson and Harley Letner are always ones to beat. We are definitely going against the big dogs out there, especially moving into the Trick Truck Class. But they're all such nice guys; if we all ended up at a bar somewhere we would have a good time."
Kyle looks up to his dad as a competitor and loves having his family and girlfriend Breanna so involved in his racing. He is also super proud to represent Brenthel Industries and to have such strong vehicle support. The Brenthels are out there prepping and testing the truck, always working behind the scenes, says Kyle.
While Kyle says he just shows up and drives, everyone who races against him can say he doesn't give himself enough credit for his level of skill.
Kyle's favorite event is next; the Jimco Racing Silver State 300 Presented by Maxxis Tires will run in Alamo, Nevada on April 28-30, 2022.
Kyle Jergensen currently holds 79 points in Best In The Desert point standings with BJ Baldwin in the lead with 92 points.