Best In The Desert Racing: How to Compete
If you are already an avid fan of off-roading, perhaps you own a UTV, a quad, motorcycle or truck, there's a good chance you may want to take that next step and start racing. Well then, you've come to the right place! Off-road desert racing is one of the most highly rewarding and exciting forms of competition on earth. The challenges are immense and so are the rewards and the sense of satisfaction one experiences for taking on some of the toughest off-road adventures in the world. Whether it's competing for an overall or class win or just the tremendous sense of accomplishment one gets for crossing the finish line of a long and grueling event, there is no other form of competition quite like off-road racing. Best In The Desert founder Casey Folks knew this better than anyone, which is why he invites all off-road fans to come live their adventure with us.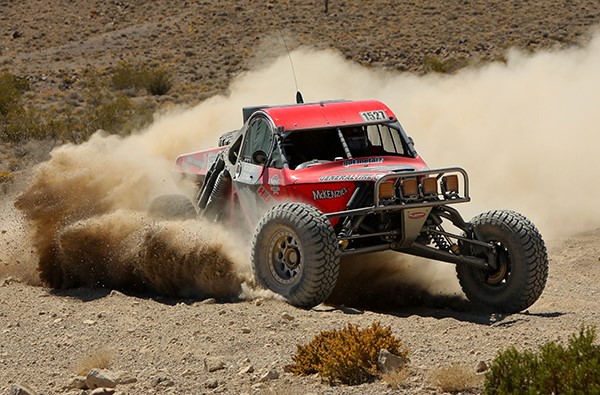 Getting into Off-Road Racing
The beauty of American off-road racing is that anyone can get into it. And while the skills and abilities necessary to compete at a very high level are very real, it's not a sport that you need to train for your entire life to get good at. All you need is a passion for motorsports, the commitment and dedication to give it your all, some wide-open desert and tough terrain, a well built race vehicle and good support crew around you.
Go to a Competition
The best place to start is by attending an off-road racing competition. That way you will see the action up close and see how races operate. You'll get to see how drivers and co-drivers interact with their pit crews, how the race officials and volunteers keep the event running smooth and safe, and how scoring works. It will help you understand what is necessary to transfer your mindset from a weekend warrior mentality into a racing mentality. Check out the Best In The Desert Races under the Race Events Tab for 2023 and start making travel plans!
Join the "Fraternity"
Whenever you start any new hobby or sport, it's best to get guidance from someone who knows what they're doing. Whether it's a mentor or a teacher, learning from someone is the best way to get familiar with something new. If you don't know anyone who is into off-road racing, don't despair. Most off-road racers are very generous and willing to share their experience with you. Ask around. Most racers are more than excited to share their love for desert racing and will teach you everything you need to know. In some cases, there may be actual training schools that you can look into.
Get Involved in the Community
Another way to learn about something new is to join the conversation online and get involved in the community. One of the best ways to learn about the different classes and different events in off-road racing is to start participating in forums. Some good ones to consider include:
By signing up for the Best In The Desert newsletter you will be a part of our own community. You can stay up to date with upcoming races, event registration, and become a connected member of the Best In The Desert organization.
Volunteer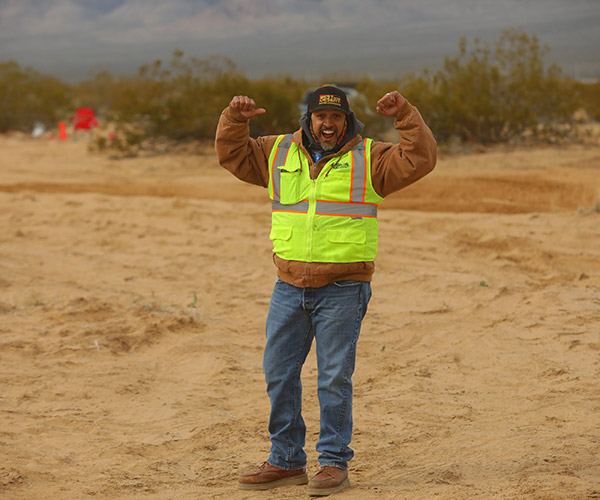 As mentioned above, before you try your turn in the driver's seat, you should learn everything you can and get as much information as possible. Consider volunteering for a Best In The Desert race. You'll get an even closer look at our race operations and you'll get to meet plenty of people who can help you learn more about racing. You can help manage a pit to see what a pit crew does or help at a road crossing or any number of other functions you can perform that will help develop your understanding of what off-road desert racing is all about. Volunteering is a great way to get involved and become a part of the Best In The Desert family!
Consider Serving on Race Team
Instead of jumping in and starting off with a 500-mile race, consider joining a race team as a pit crew member. Once you volunteer and get involved in the community, there may be an opportunity for you to ride shotgun in a race vehicle. This is another way to give you a true driver's perspective and to see what it's really like out there on the race course. Note that you will need to have some mechanical knowledge or prior motorsport race experience in order to be truly useful to the driver!
Build a Team Around You
As you will quickly learn, off-road racing requires a dedicated team behind every entrant. One of the most important first steps to off-road racing is building your own support crew. It can be a group of your friends who also want to get into desert racing or you can put together an experienced crew that you meet on forums, at race events, or joining the volunteer team. A good pit crew knows the logistics of desert racing. From the pit captain to the people working on your vehicle, you'll want a team that works well together and knows what they're doing. Radio communication between the drivers and the pit crew is essential and is a step that shouldn't be overlooked. Pit support crews are available for hire at most races but it's best to have a team that knows you as a driver and that you trust with your vehicle.
Deciding Your Class
Each Best In The Desert event is open to a wide variety of race vehicles including Motorcycles, Quads, Cars, Trucks and UTVs. If you can, start out by competing in some of the shorter events so you can understand how your vehicle operates in race conditions, how to read the course markings, terrain, rules and regulations. Best In The Desert offers many different classes depending on your background and what type of vehicle you prefer racing on. The Best In The Desert racing classes are as follows:
Trick Trucks: Unlimited trucks or SUVs
Class 1000: One or two-seat open-wheeled cars with unlimited suspension, and a limited displacement engine
Class 1100: One or two-seat open-wheeled cars with twin beam front suspension and a limited displacement engine
Class 1200:Pure-stock production full size trucks or SUVs
Class 1500: Unlimited one or two-seat open-wheeled car
Class 1700: Jeepspeed challenge- stock class
Class 2000: Open-wheel single & two-seat cars limited to 1600CC VW engine & VW type-1 suspension system
Class 2700: Jeepspeed Cup – intermediate class
Class 3000: spec engine mini, car, truck or SUV sealed production engines
Class 3700: Jeepspeed Outlaws – modified class
Class 4400: Ultra 4 – King of the Hammers type vehicles
Class 4700: Jeepspeed Trophy -open class
Class 5000: Unlimited Baja sedan
Class 6000: TrophyLite trucks
Class 6100: Spec engine trick truck – unlimited truck or SUV with sealed Ford and GM spec engine
Class 6200: Spec engine unlimited; one or two-seat open-wheel car with sealed Ford and GM engines
Class 7100: Sportsman Mini or mid-sized trucks or SUVs
Class 7200: Mini trick truck unlimited trucks or SUVs
Class 7300: Pure-stock production mini or mid-size trucks or SUVs
Class 8100: Unlimited Sportsman trucks or open-wheeled cars
Vintage: Four-wheel vehicles that are 1989 or older (4501-4599)
Pro Turbo UTV: Turbocharged production UTV with OEM stock 1000cc engine (T1-T999)
Pro NA UTV: Normally aspirated production UTV with OEM engine, 1000cc max. (R1-R999)
Pro Trophy UTV: production vehicles with modified engines 1000cc max; pro UTV unlimited (H1-H999)
UTV Super Stock Turbo: Limited Pro Class-  Turbocharged production UTV with Majority OEM Build  (S1 – S999)
UTV Super Stock NA: Limited Pro Class- Normally aspirated production UTV with Majority OEM Build (R1-R999)
Sportsman UTV: UTV Rally Sportsman (M951-M999)
Pro Motorcycle: Open Pro (N) – 399 Pro (X); Over 30 Pro (P); Over 40 Pro (C)
Motorcycle: Open Exp/Am (300) – 399 Exp/Am (200); Over 30 Exp (500); Over 40 Exp (700); Over 50 Exp (800); Ironman Exp/Am (O)
Quad: Quad pro (Q); Exp/Am (400); Ironman Exp/Am (600)
3-Wheelers: 3-Wheel Exp (400)
Building Your Race Vehicle
Because you are probably already involved in off-road recreation in one form or another, you know how important maintenance and set-up are on your race vehicle. Regardless of the type of race vehicle you select (motorcycle, quad, UTV, car or truck), remember the old adage: "to finish first, first you must finish." In addition to paying attention to performance set-up for suspension and motor tuning, the most important factor of all is safety and reliability. Therefore, the best place to start is the Best In The Desert Rule book since this is where all the special rules and specifications for each class reside. As you will find out most rules are for safety considerations.
Finances
There's no way to sugarcoat the fact that competing in off-road racing is an investment. You need to factor in your vehicle, whether you buy it ready to run or if you build it up yourself. There are also entry fees, fuel, and accommodations for you and your team. If you do any preliminary training like desert racing school or joining any other clubs or organizations, there are also fees there. Once you get started in the world of desert racing, however, you'll get the bug! Ask any BITD racer and they'll tell you the initial cost to get their vehicle set up and all the additional fees are well worth it.
Best In The Desert Racing Association
Best In The Desert racing is recognized by most everyone as the leader in off-road racing. We put on highly organized, safe and fun off-road events. We are one of the most exhilarating ways to get involved in the world of off-road racing. We organize at least eight race events a year in North America including loop races, short course, and point-to-point races that range from 250 to 550 miles. Some of our most famous race events include:
Vegas to Reno
Parker 250
Parker 425
Laughlin Desert Classic
Silver State 300
We take great pride in our race series and our races are world-renowned for their organization and challenging nature. Our races take place in Nevada and Arizona where the desert is vast and the courses are long. The best off-road racers in the world compete in BITD races, and you can too. Keep an eye on our upcoming race schedule for more information regarding our race registration, time trials, tech inspection, event programs, and more. Don't forget to sign up for our newsletter below to stay up to date! Welcome to the Best In The Desert family. We are happy to have you.
Become a Best In The Desert Racer