Jason Cobb Captures the First Casey Folks Perseverance Award
Posted December 19, 2017
December 2017, Las Vegas, Nevada
At Best in the Desert's 2017 year end awards capping off the best year for entries in the organization's history, the Inaugural "Casey Folks Perseverance Award" was announced as a new annual award.  It is given to  someone who encompasses hard work, dedication, integrity and most importantly perseverance. Casey was a man of his word. No matter what it took, Casey persevered to honor his commitments. Throughout Casey's life, he faced many difficult times. 
He met challenges head on and would never back down or take the easy way out. He stood for what was right and was a man of integrity. Casey's Motto was: Lead, Follow or get out of the way. Casey was a leader and lived the adventure of a lifetime. This trophy represents all the attributes Casey exhibited throughout his life and the legacy that lives on.
Jason Cobb was chosen as the first recipient of this prestigious annual award due to many factors. Jason has been one of Best in the Desert's most ardent supporters for years. He went through a series of serious health issues, but was fortunate to be surrounded by a very supportive family, including his wife Gretchen, and successful racer son Josh. Fortunately Jason is now cancer-free. In the midst of his health issues, he lost two jobs within the industry, but persevered throughout it all, and is now the proud owner of Trophy Lite.
The Best in the Desert organization and family are fortunate to have Jason involved with us, and wish him the best of luck in his Trophy Lite adventure, and all future endeavors.
For more information about Jason Cobb and TrophyLite, please visit:
Next race for Best in the Desert is the GMZ UTV WINTER NATIONALS CASEY FOLKS Parker "250" Presented By Polaris, being held January 5-6 in Parker. Arizona.  For more details on Best in the Desert's events, visit:
---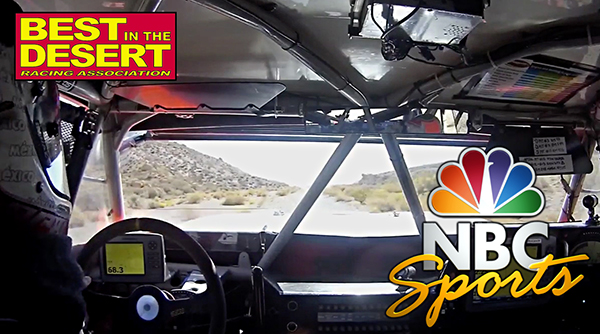 ---
About Best In The Desert
Best In The Desert is recognized as the largest professional desert off-road racing organization in North America holding multiple off-road desert races. The philosophy of the organization is to provide top quality, World Class Off-Road Racing events, and more importantly to make those events exciting, spectacular, fun, different, well paying, and most of all, affordable. Based on over three decades of experience, and on years of sponsoring and promoting successful local and national events, Best In The Desert has achieved new levels in the sport of off-road desert racing. Best In The Desert, along with its racers and sponsors, enjoys recognition and exposure that sets it apart as "The American Off-Road Racing Series".
Best In The Desert official sponsors: Ford Motor Company – official truck, General Tire – official tire, Lucas – official oil, Sunoco Race Fuels – official fuel, KC HiLiTES – official light, Polaris RZR – official UTV, Beta Motorcycles – official motorcycle, Fabtech – official Suspension, Rugged Radios – official communications, 212 Performance Gloves – official gloves, Method Race Wheels, McKenzies, Kartek, Sportsman Cycle Sales, Slime, Team Ford Lincoln Las Vegas, Fall Advertising and Prerunner Maniac.
Life is an Adventure.
Come Live Your Adventure with Best In The Desert…
THE AMERICAN OFF-ROAD RACING SERIES
Further information is available at:
www.bitd.com
email: bitd@bitd.com
phone: (702) 457-5775
Media Contact:
www.fallads.com/bitd
email: mediabitd@fallads.com
russt@fallads.com
donaldf@fallads.com