2019 Bluewater Resort Parker "425"
Presented by Impact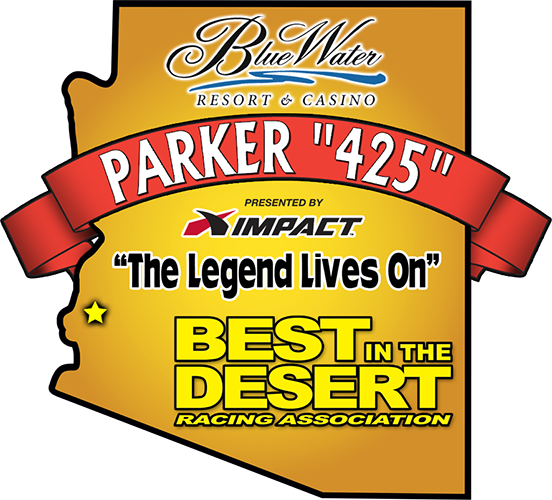 2019 Bluewater Resort Parker "425"
Presented by Impact
"THE LEGEND LIVES ON"
TRUCK
CAR
Parker, AZ
425 Miles
Time Trials January 31, 2019
Welcome Racers To The 2019 Racing Season! The BlueWater Parker "425" Presented By Impact Is January 31 – February 3, 2019, Start Making Your Plans Now! The Great BlueWater Parker "425"; It's One Of The Most Fun Races On Our Schedule, Our Racers Love Parker, AZ.
Sunday, January 13, 2019
Pre-Fun Run, Check-in is Saturday night.
Wednesday, January 16, 2019
Draw Day for start positions, get your entry form in by Jan 15th to be in the draw.
Thursday, January 31, 2019
TIME TRIALS and  Downtown Experience – The Parker Area Chamber of Commerce presents the Parker "425" Downtown Experience. – Downtown Experience Open to all Classes for 2019!!!
Friday, February 1, 2019
Registration, Tech & Contingency, Drivers Meeting
Saturday, February 2, 2019
Minor Form
If you have a minor racing, 17 years or younger, please fill out this form, it must be notarized and bring it with you to registration on Friday.
PDF Download
Drones
Important notice: DRONES WILL NOT BE ALLOWED AT ANY BITD EVENT.  If you are a media person and you fly a drone you will lose your press credentials.  If you are a pit crew or spectator and fly a drone the BLM Rangers will be sent to remove you from the area. Please know Drones are VERY DANGEROUS to the safety of all concerned, people in the air and on the ground.
Baja Pits
Baja Pits (619-921-8978)  will be pitting at Pit 1-2-3.  Midway (Pit 3) is a stationary pits,  if you go in for the first start (5 am) you will be allowed out between 12:15-12:45pm  or until the 2nd race is finished around Midnight.  We are NOT going to have Pit 4 Mineral Wash this year.  Contact Carlos at (619) 921-8978, carlos@bajapits.com
Vendor Information
Fill this form out to reserve your Spot and email to George at Expo@bitd.com
If you want to be a VENDOR you must get a Vendor / Business License from CRIT, you can call 928-575-1532  (new number 1/3/18), the tax & finance office. Office is located at 1000 Agency Road.
Vendor Business License – Fill this out to get your business license.
Tax Form – CRIT is asking that these be filled out ahead of time. Please don't wait till you get there!
PDF Download
Racing Trax
Racing Trax – Satellite Tracking system is mandatory for all race vehicles
All classes need to pre-register at www.RacingTraX.com.  IF YOU REGISTER THE SAME DAY AS CONTINGENCY YOU WILL RECEIVE A $25 LATE FEE.
Racing Trax Website
Off-Road Decal Permit
Annual/Yearly permit from date of purchase: $25.00 (Must purchase at the CRIT Fish & Game Office- 2100 Mutahar Drive, Parker Arizona 85344)
January 30, 2019 to February 02, 2019:  $25.00 (Purchase at checkpoints/gates in the Gauntlet Zone)
Camping Special Permit
January 30, 2019 to February 02, 2019: $40.00
One day Camp permit: $15.00 (each day per three individuals in a camper)