2019 General Tire Casey Folks Vegas to Reno
Presented by FOX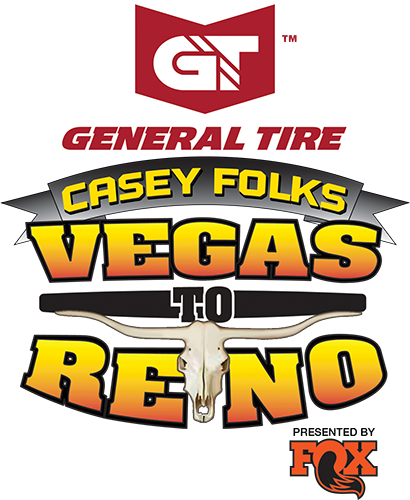 2019 General Tire Casey Folks Vegas to Reno
Presented by FOX
"THE LONGEST OFF-ROAD RACE IN THE UNITED STATES"
MOTORCYCLE
QUAD
UTV
TRUCK
CAR
Las Vegas, NV - Reno, NV
550 Miles
Time Trials August 14, 2019
The 2019 General Tire Casey Folks "Vegas to Reno" presented by FOX, "The Longest Off-Road Race in the United States!" will be a 1-day race, approximately 550 miles!  The race will be on Friday, August 16, 2019 and run into Saturday morning.  We welcome all racers and would like to thank our great sponsors, General Tire, FOX, Ford Motor Company, Lucas Oil, VP Race Fuels, KC HiLites, FabTech Suspensions, Rugged Race Radios, Polaris RZR, Method Race Wheels, Team Ford, McKenzies, RNR Steel, Slime, Trophy Tractor, Sportsman Cycle Sales, Tactical Recovery Equipment, and Dick's.
Wednesday, July 24, 2019
Draw Day for Start Positions, make sure your entry form is in to get a good start position.  You will receive your FIP (Final Information Packet) after the draw, pit book, rules, info, etc…
Tuesday, August 13, 2019
Time Trial Registration for Trick Truck, Class 1500 and Class 6100
Wednesday, August 14, 2019
Time Trials for Trick Trucks, Class 1500 & 6100, Host Hotel Texas Station
Thursday, August 15, 2019
Friday, August 16-17, 2019
Race Day, finish line closes Saturday morning
Saturday, August 17, 2019
Awards Presentation, Sparks Nugget
Sunday, August 18, 2019
No scheduled events, have a safe trip home