Jimco Racing Silver State 300 Features Impressive Racing, Great Competitor Turnout, Overall Championship Points on the Line
Posted May 3, 2021
FOR IMMEDIATE RELEASE: LAS VEGAS, NV (May 3, 2021): Best In The Desert, home to the famous Maxxis Tires "Casey Folks" Vegas to Reno Presented by Fox, wrapped up the third event of its 2021 schedule this past weekend and in glorious fashion. 
The Jimco Racing Silver State 300 was a 300-mile point-to-point race near Alamo, Nevada open to Cars, Trucks, UTVs, Motorcycles, and Quads all competing for podium placement and points toward Best In The Desert's overall series championship. The racecourse is one of the most unique in all of off-road racing set amidst a combination of high desert, mountains, and rural backroad Nevada trails and dirt roads, making it an annual favorite for Best In The Desert racers. 
Friday, April 30, 2021, officially launched the race with Best In The Desert's Event Expo, Registration, Tech, Contingency, and pre-event activities at Boulder Station Hotel and Casino. The festivities, with COVID-19 precautions in place, all went smoothly and felt like pre-pandemic days. 
Racing got started early Saturday morning, May 1, 2021, with motorcycles leaving the line at 6 a.m. sharp followed by the Cars/Trucks and UTVs at 10 a.m. Rising star Nic Garvin, coming off his win at the season-opening Tensor Tire Parker 250, faced stiff competition for the overall. He raced solo head to head with newly-signed Husqvarna factory Dakar rider, Skyler Howes. Howes, the defending Silver State overall MC winner, was on his maiden voyage on his new Husqvarna ride. Together with defending series number 1 plate holders Hayden Hintz and Trevor Hunter on the N1 Kilmartin Racing/3 Bros KTM team, made for a formidable competition. Garvin used his front start position to build an early lead which he extended to about four minutes on corrected time and held all the way to the finish despite repeated attacks by Howes and Hunter/Hintz. Even a crash after hitting a cow at high speed near the finish couldn't slow him down.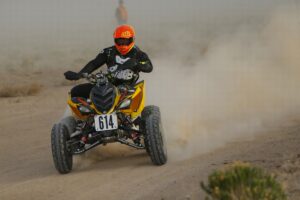 Garvin took the win in 4:43:14, the second-fastest overall time for all classes, followed by Howes in 4:47:19. Rounding out the podium and giving both top riders a run for their money was the N1 Hayden Hintz/Trevor Hunter team finishing in 4:47:38, just 19 seconds behind Howes. 
Other motorcycle class winners included Over 30 Pro Bryce Stavron with a finishing time of 5:06:04, 399 Pro Taylor Stevens/Wyatt Brittner besting Cory Skaggs/Jarett Megla after an epic battle finishing in 5:07:46. Ironman Pro Class was won by J18 Tanner Tavernier with 5:23:24. The Open Expert Class was taken by the #301 Eric Holt/Damon Bush/Tyler Harvey team, the Ironman Expert won by #017 Dallas Theobald, and the #777 David Swanson team won the O-40 Expert Class. The O-50 Expert race was won by the team of Paul Palmer/Cliff Thomas/Scott Stearns and Derek Paiment. Finally, Darian Hickey and Kari Erickson took home the Women's Expert Class on the W15 KTM competing for Rider of Record, Ashlee Gage who was injured before the race and couldn't participate.
The overall Quad Class winner was Kyle Standage, winning the Quad Ironman Expert Class in 6:27:24. The first Open Amateur team was the #363 Honda ridden by Jake Robinson/Slade Robinson/Stephan Smouse and Henry Holmes in 6:37:20.
Following the bikes and quads was the Car/Truck/UTV field with Trick Trucks leaving the starting line at 10 a.m. Best In The Desert veterans Adam Householder, Kyle Jergensen, and BJ Baldwin took on defending series champions Kevin Thompson and Harley Letner driving the Concrete Motorsports #1 Trick Truck. Thompson/Letner are really on a roll coming off a super strong 2020 race season and having won the series-opening BlueWater Parker 425 Presented by Jimco overall. These teams will be close in points for the overall Best In The Desert championship which means the Maxxis Tires "Casey Folks" Vegas to Reno Presented by Fox will be critical.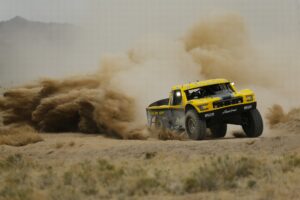 In the end, the Concrete Motorsports team Thompson/Letner took full advantage of their front start position, building a small lead off the start and racing a smart, calculated race to hold off the challenges of Jergensen and Householder and finishing in 4:42:20, which was also the top overall time of all the classes. Jergensen finished in 4:44:03 and Householder in 4:46:27, respectively.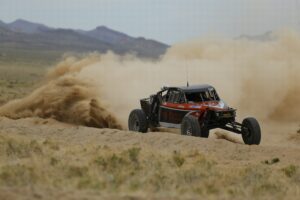 All the Car/Truck classes saw tight finishes and exciting racing on one of the most unique and fun courses on the Best In The Desert schedule. In a truly incredible race, perennial Class 6100 threat #6153 Ray Griffith brought home the class win a mere 13 seconds in front of second-place finisher Justin Blower, with third-place racer Dustin Grabowski just 62 seconds behind Griffith on corrected time. Class 1500 saw Joe David take the overall win in 5:21:49 and Sam Berri in second place with 5:45:11.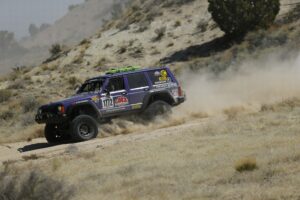 Other Car/Truck Class winners included the Preston Brigman/Brent Fox/Daniel Brown team taking the hotly-contested Class 1000 win in a time of 5:12:46 with Matt Rusich coming home second in 5:17:15. Not to be outdone by his brother, #5072 Troy Grabowski had a great day as well winning Class 5000 followed by Chad Radmall. Todd Walter won Class 7100, Sean Berryman took Class 7300, Jeff Harmonson in 4700, Guillermo Cervantes in Sportsman 8100, and #4505 Craig Christy Driver of Record for Class 4500 Vintage. In Class 6200 it was #6201 Nick Carolan backing up his win at the Parker 425 with another win along with #1230 Chad Hall in Class 1200 going back to back at the Jimco Racing Silver State 300.
In the JeepSpeed competition the #1772 Tim Martin-led team won Class 1700 in a time of 8:03:41 while Jerry Simonson won Class 3700 in 10:33:48. All together, Jeepspeed had an impressive showing at the 2021 Jimco Racing Silver State 300. TrophyLites was won by #6054 Rick Jackson and Brian Gabriel in 9:31:51.
Finally, finishing the day were the UTV Classes which saw the highest entries and fierce competition. As usual, the UTV Pro Turbo Class set the pace for the overall UTV time. The T944 Can-Am team of Phil Blurton/Beau Judge showed why they are still the duo to beat taking home the overall UTV win in a time of 5:11:21, 13th place in the overall Car/Truck/UTV combined, followed by Ryan Piplic in 5:13:43. Third place overall went to Branden Sims in a time of 5:14:45 with Red Bull's Mitch Guthrie Jr. finishing fourth overall in UTV Turbo. A little over three minutes separated first and third places. 
The UTV Unlimited Class was one of the closest races of the day. #2910 Chris Blais, who just recently switched to the Unlimited Class from the Rally Class, took home the hard-earned win in 5:27:22 over class-star Randy Raschein who was only 15 seconds behind on corrected time. Talk about close!
In the UTV Pro N/A Class, #1969 JD Marsh took home the win in a time of 5:36:05 beating Kaden Wells and Austin Bolton just seconds behind who finished second and third, respectively.
Bill Baker beat young Jack Olliges for the UTV Rally Class win, while Johnathan McVay won the UTV RS1 NA class over Katie Vernola.
Tensor Tire Parker 250 Class Champion Mitchell Alsup backed up his win at Parker 250 with another win at the Jimco Racing Silver State 300 in the UTV Pro Open class.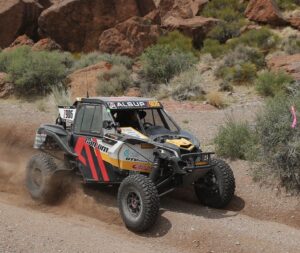 The UTV Sportsman Class was won by Darren Dryer and the UTV Pure Stock Class T won by #B918 Daniel Cooke and Pure Stock by Kawasaki UTV Racer #D955 Ryan Fuller.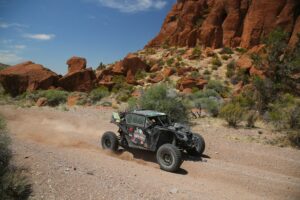 "We couldn't have asked for a better day of racing or a more flawless implementation of the actual competition," said Best In The Desert CMO Bryan Folks. "Everything went like clockwork. Most of all, we are happy to report no major injuries or incidents out in the field. Based on the smiles and overall atmosphere at the finish line I think the event was everything we hoped it would be. A big thank you to our staff and volunteers."
"It's great to see when all your hard work and effort comes off just as you planned," commented Best In The Desert Race Operations Mgr. Jeff Phillips. "We had a great turn-out with some really close racing all day. It's clear the Silver State 300 racecourse is a favorite based on all the positive comments we received. I want to especially thank my staff and all the volunteers that came out to make it possible for our racers to do what they love best. The pre-event festivities combined with the fact we held our first post-race awards ceremony on Sunday in over a year are all signs we are getting back to normal. Thank you to everyone who supported our event and especially Robbie Pierce and Jimco Racing for stepping up as Title Sponsor of the event."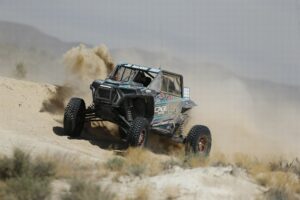 Best In The Desert's Instagram and Facebook page features more of the action from the Jimco Racing Silver State 300.
The full list of results for the Jimco Racing Silver State 300 can be found on the Best Of The Desert website here. 
The next Best In The Desert race on the 2021 schedule will be the highly-anticipated Rocky Mountain ATV/MC World Hare and Championship Presented by GPR in Tonopah, Nevada on May 21 to May 23, 2021.
###
*All photos property of DirtNation*