All Terrain Concepts UTV Legends Championship Draws Large Field | Biggest Names in UTV, Motorcycle, and Quad Classes Set to Compete Sept. 9-12, 2021
Posted September 2, 2021
FOR IMMEDIATE RELEASE: LAS VEGAS, NV (Sept. 2, 2021): The All Terrain Concepts UTV Legends Championship is set to run Sept. 9 -12, 2021 in Laughlin, Nevada and will bring together the best UTV, Motorcycle, and Quad solo riders and teams from around the nation.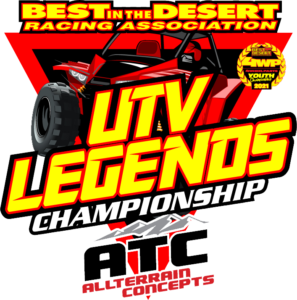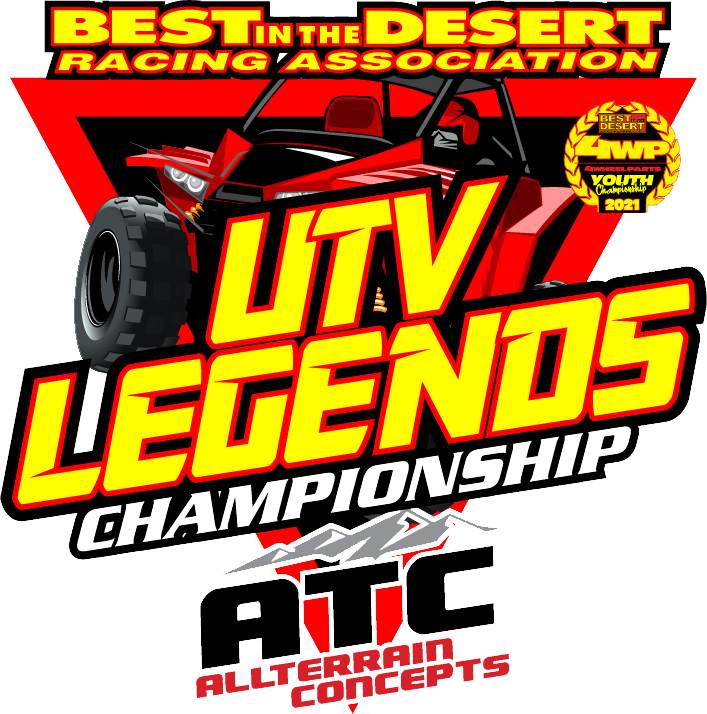 Not only is it the sixth race of the 2021 Best In The Desert Series, the fourth round in the UTV series, and the next to last points-paying round to determine series championships, but it's also the second event of the 2021 4 Wheel Parts Youth UTV Series. A huge turnout of up-and-coming youth UTV racers are expected to compete in the event to get them familiar with the exciting world of off-road racing. 
The All Terrain Concepts UTV Legends Championship is the first semi-short course of the 2021 Best In The Desert Series and as such, requires a different set of skills than longer point-to-point and loop races.
The Saturday classes will run a 17-mile racecourse that includes a new, super-challenging infield section, starting within a couple of blocks of downtown Laughlin, making for a beautiful backdrop for spectators.

Sunday's short course will be 6.8 miles long while the Youth UTV course is 3.4 miles long. This will be the first race in Best In The Desert's 2021 Series that fans are welcome to watch the action along the racecourse. 
Activities start bright and early on Thursday Sept. 9 with 8 a.m. registration and Time Trials for the UTV Pro Turbo and UTV Pro Open classes. There will be an escort lap at 1:30 p.m. for the UTV Turbo Pro and Open Pro classes followed by Time Trials at 2 p.m. 
Friday, Sept. 10, 2021 starts with Registration, Contingency, Tech, and the Best In The Desert Event Expo at 8 a.m. The action continues with the Youth UTV racers hitting the track at 1 p.m. followed by the highly-anticipated Method Race Wheels Racer Appreciation Social Hour at 5 p.m., Youth UTV Awards at 6:30 p.m. and the Driver's Meeting at 7 p.m.  
Saturday Sept. 11 and Sunday Sept. 12 feature two full days of racing with many highlight classes including UTV Turbo Pro, UTV Unlimited, UTV Pro N/A, UTV Pro Open, UTV Rally, and RS1 classes all vying for a win. Sunday's focus will be on Short Course Racing and the entire event will be filmed for broadcast later this fall on Best In The Desert's MAVTV program.
"We always look forward to heading to the city of Laughlin and the Colorado River," commented Best In The Desert CMO Bryan Folks. "Our friends at the Laughlin Chamber of Commerce, Laughlin Tourism Commission and Las Vegas Events always prove to be such accommodating hosts welcoming our racers with open arms. We are also excited to film this event for broadcast on MAVTV. This is the first time ever that Best In The Desert has done a show 100% dedicated to the UTV, Motorcycle, and Quad classes. It's a great opportunity for some additional exposure for these racers and their sponsors."
"We are very excited to be shifting into our fall racing programs," stated Best In The Desert Race Operations Director Jeff Phillips. "Vegas to Reno was a huge success but now we head into crunch time for all those racers seeking series championships. This is the next to also round for many of them with #1 plates on the line so the racing should be especially tight. We invite everyone to come out and join us for some great action and some new surprises related to this year's course layout."
Registration for the All Terrain Concepts UTV Legends Championship is open until Sept. 5, 2021. More information can be found here. 
The next Best In The Desert race, the King Shocks Laughlin Desert Classic comes right on the heels of the All Terrain Concepts UTV Legends Championship on September 23 -26, 2021 again in Laughlin, Nevada. It features Cars and Trucks and is sure to be a barn burner of a race as well. Race information and registration can be found here.
###
Thanks to our sponsors!