2021 All Terrain Concepts UTV Legends Championship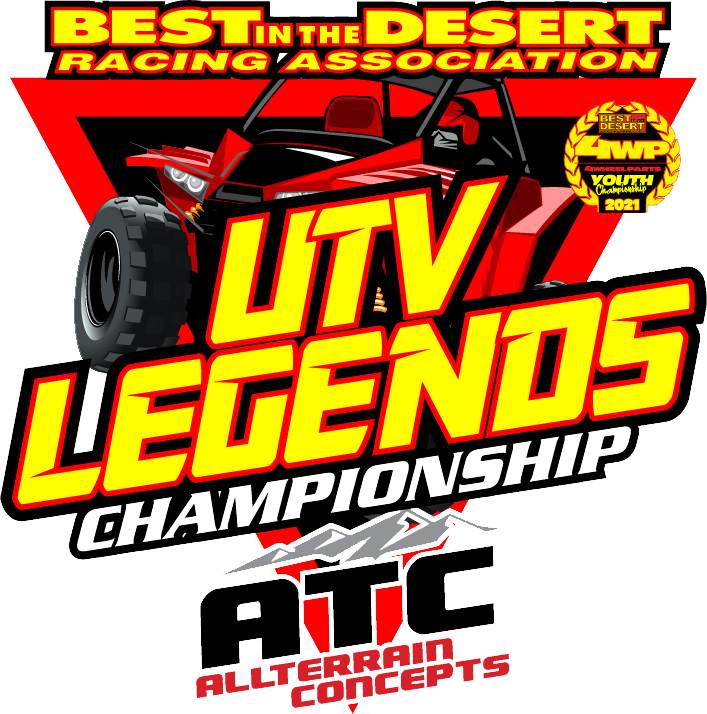 2021 All Terrain Concepts UTV Legends Championship
"Race of Champions"
MOTORCYCLE
QUAD
UTV
Wednesday, March 10, 2021
Draw for starting positions. If you would like to be in the draw, have your entry in before August 25th.  
Hotel Information
Click here for Tropicana Laughlin discounted Hotel information!
Registration & Forms
Minor Waiver-If you, or anyone on your team, that is anyone getting into the race vehicle, is 17 or under please have this form notarized prior to the race. You can mail it, email it, or bring it in to registration.
Additional Driver/Rider Form – if you have registered online and need to add or change a driver please fill out form and email to bitd@bitd.com.
Pit Crew Waiver– Anyone that will be in the pit must sign this form. 
Volunteer Information
Volunteer Form– Please fill this out and turn it back in before August 30th. You can email or mail it to our BITD Volunteer Coordinator at contingency@bitd.com.
Volunteer Liability Form – Please have anyone that you plan to have with you fill this out, and turn it back into BITD.
Contingency
PLEASE Fill out the forms TODAY and email back to contingency@bitd.com before September 7th. We will be packaging them up for you to pick up at Registration. We are going on the honor system so please be truthful on what you run and the decals you have. We will be taking forms on site and we will have decals, however they are limited to first come first serve, so in the spirit of preparedness please have your forms in by September 7th.
Tracking Information
RacingTrax.com – Register for your tracking unit when registration opens. Same day, on site, registration late fee is $25 Mandatory for all Classes. This is separate from your transponder. You will pick up the unit onsite and they will install it. If you need a bracket order Today so you can install it before the event.
Pit Support
Pit Crew Form– All Pit support crew members will need to sign this in order to receive wristbands and be allowed into the pits. Without an armband, they will be denied entry.