BEST IN THE DESERT LAUGHLIN DESERT CLASSIC FEATURES EXTREME RACING, RIVERSIDE NIGHTLIFE & NEW CLASS 1000 EXCITEMENT
Posted October 7, 2019
BEST IN THE DESERT LAUGHLIN DESERT CLASSIC – FEATURES EXTREME RACING, RIVERSIDE NIGHTLIFE & NEW CLASS 1000 EXCITEMENT
Don't Miss the Action in Laughlin!
Method Race Wheels LAUGHLIN DESERT CLASSIC
Presented by Jimco – October 10-13, 2019
LAS VEGAS, NV (October 5, 2019) – The Best In The Desert Method Race Wheels Laughlin Desert Classic Presented by Jimco is shaping up to be bigger, better and more exciting for racers and fans alike.  Here's the latest from Best In The Desert Race Operations Manager Donald Jackson, as he was interviewed by the local media:
This marks Best In The Desert's fourth year here for this race, what's in store?   2019 is our 4th year for the event and returning for the 2nd year is the Baja Designs Sponsored UTV night race. Unlike past years, this is the final race of the season for the Car/Truck/UTV community so class championships are on the line and with it being a double points race, it is sure to be highly competitive.
Any major changes in the format, the racing portion, any new elements, etc.?
The racing format will be similar. There are two races Thursday night for the UTVs, and five races each on Saturday and Sunday.  Plus the return of Laughlin Leap Saturday night. The infield will be a completely new design that will showcase tight turns, big jumps and lots of action.
How is working with the Laughlin Tourism Commission now that it's part of the Laughlin Chamber of Commerce?  The LTC has always been helpful to work with and dealing with Jackie and Val now, they are very organized, proficient, responsive and making great improvements to the LTC that were needed.
How is Laughlin for entertainment?
Besides bench racing with the top names in off-road racing, Laughlin offers exciting nightlife, fans and racers alike can find great dining, live music and some very entertaining shows.
Talk about the race course this time…any new twists and turns?  Still a very, very exciting – tough – challenging course. The infield will be a new design and the race course will be a 16 mile loop again this year.
Is there a Fabtech Laughlin Leap this time?   YES – Absolutely, as racers really enjoyed the challenge last year and it's Saturday night – and spectators are FREE.
How will that work?  The Fabtech Laughlin Leap is separated into classes this year, with a minimum of two entries for a class to compete. After four entries are received per class, then it will be a bracket style competition until the final round, which will be a longest jump to determine winner.
Talk about the challenge the event will present to drivers of trucks, and cars vs. UTVs. The course is very tight and technical so for the cars/trucks knowing when to push the envelope and when to be smooth and steady is a tricky balance. For the UTVs, the night factor is always a challenge. Most drivers don't experience a lot of seat time behind the wheel in racing conditions after dark so it is an element of surprise that can be a game changer in the championship.
Who are the strong contenders to watch out for? Past and current champions?
In Trick Truck, there is a three-way battle for the Class Championship between Jeff Terzo from Youtheory racing, Steve Olliges from Team Ford-Fox Shox and Jason Voss from Voss Motorsports. Not only will these three teams be battling each other but we also have powerhouses like: Tracy Graf, Kevin Thompson, Christian Sourapas, Justin Matney, Adam Householder and Johnny Angal to name a few that will be forcing these drivers to be on top of their game.
1st and 2nd place in Class 1000 of Conner McMullen Sponsored by Kevin McMullen Fabrication and Transaxle and Christian Fessler sponsored by Paradise Garden Center are only separated by 1 point with the entire Top 5 teams in Class 1000 within 31 points of each other so that is sure to be a great battle to keep an eye on.
Class 6100 has Brock Heger sponsored by Method Race Wheels in the lead with 434 points with Travis Chase Sponsored by General Tire and Adam Lunn Sponsored by Trophy Tractor tied for second with 431 points, followed by Taylor Mills sponsored by Mills Motorsports with 415 points and Andre Laurin sponsored by MoTul sitting in 5th place with 408 points. This highly competitive class has all 5 top teams within 26 points of each other after 4 rounds and 1,650 miles of intense desert racing!
Seth Quintero, Red Bull Sponsored UTV driver, is leading the points in UTV Pro Naturally Aspirated class by dominating the season. He has won all 6 rounds of competition and a win at the UTV Night Race will give him a perfect season and class championship.
Phil Blurton, returning event class winner and current class champion, returns in his No Limits Sponsored Can Am with a large points lead in UTV Turbo class over ITP Sponsored Can Am driver Jason Murray and S3 Powersports Can Am driver Dustin Jones. Murray is ahead of Jones by only 3 points. And right on their heels is ITP Sponsored Polaris driver Mitch Guthrie Jr., Romo Racing Sponsored Polaris driver of Randy Romo and Cognito Sponsored Polaris driver Justin Lambert. These six teams are separated by a mere 13 points after some grueling 1,900 miles of competition!!
Any female drivers competing? Sierra Romo and Lacrecia Beurrier doing battle in their Polaris Turbo UTVs, Brook Jensen in her Polaris Sportsman  UTV, and Madeline Wedeking in her Polaris Naturally Aspirated UTV.
How many entries this year?  226 entries as of 10-5-2019.
How many vendors in the Tech Inspection and Contingency area? Is it still behind the Tropicana Laughlin?   Roughly 50-65 vendors of very exciting race equipment, a great place for spectators to roam, and see the 750 HP race cars up close. Driver Registration, Event Expo, Tech Inspection and the awards are at Tropicana Laughlin.
Where do people park this year? Are there any changes in spectator areas? Parking and spectating are the same as last year off of Bruce Woodbury, and just a $5.00 donation requested that goes to local charities.
NEWS FLASH!!!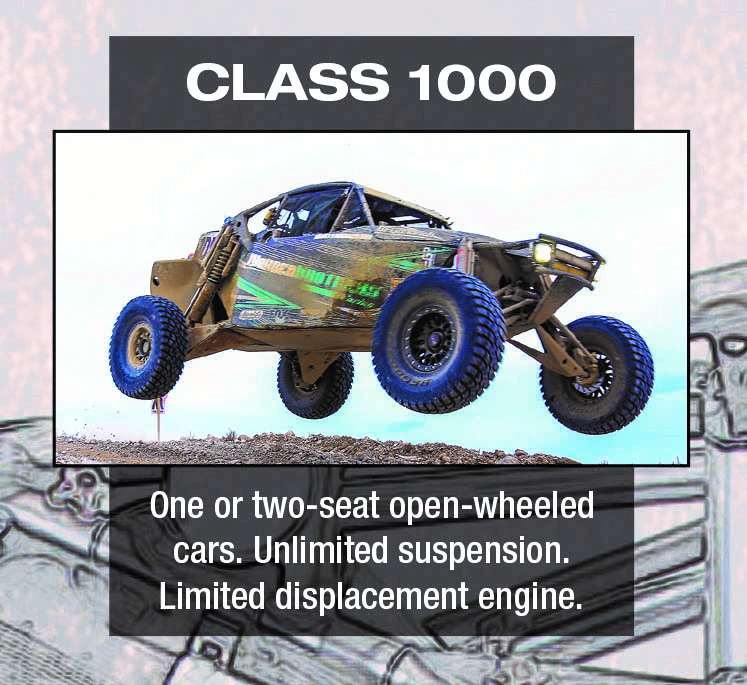 Class 1000 Has A New Class Challenge!
Several Class 1000 teams have each posted $500 as part of a Class 1000 Challenge. Thanks to Kevin McMullen Fabrication & Transaxle, Werdco BC, Paradise Garden Centers, Northgate Acoustics, R3 Farms, Rasmussen Plumbing and Far West Ranches for their financial support to this New Class 1000 Challenge There's now more than $7,000 up for grabs amongst the contributors.
Event Details:
RACE:     Method Race Wheels Laughlin Desert Classic presented by Jimco
TIME TRIALS Thursday, October 10, 2019
Class 6100, Trick Truck  and Class 1500
UTV NIGHT RACE Thursday, October 10, 2019
UTV Night Race, sponsored by Baja Designs, UTV Registration, UTV Tech & Contingency, UTV Drivers' Meeting all on Thursday! Races to start at 6:30 pm – Registration Tech & Contingency all at the Tropicana Laughlin Hotel
REGISTRATION & TECH  Friday, October 11, 2019
Registration, Car/Truck Tech & Contingency and Drivers' Meeting all at the Tropicana Laughlin Hotel
RACE DAY 1   Saturday, October 12, 2019
Race Day 1 Cars/Trucks
FABTECH  LAUGHLIN LEAP  After race excitement and some seriously looooooong  jumping!
RACE DAY 2  Sunday, October 13, 2019
Race Day 2 Cars/Trucks
Awards at Tropicana Laughlin
The Colorado River Region and the Resorts of Laughlin are anxiously looking forward to this exciting event. Jackie Mazzeo of the Laughlin Tourism Commission said, "The Laughlin Tourism Commission is honored to partner with the Method Race Wheels Laughlin Desert Classic sponsored by Jimco.  I would like to welcome racers and race fans to the town of Laughlin and the Tristate area.  We are not just a resort town and Best In The Desert has worked tirelessly for more than a year to give off-road enthusiasts a place to race a superb course in one of their favorite desert paradise locations."
FOR SERIES INFORMATION:
Contact Liz Marshall at Best In the Desert at bitd@bitd.com or
by calling 702-457-5775
FOR MARKETING/SPONSORSHIP OPPORTUNITIES:
Contact Scot Harden at marketing@bitd.com or by calling 951-491-1819
Follow the action of the Lucas Oil Production Studios broadcasts of Best In The Desert events on the NBC Sports Network and MAVTV.
2019 Best In The Desert official sponsors: Ford Motor Company – Official Truck, General Tire – Official Tire, Polaris RZR – Official UTV, VP Racing Fuels – Official Fuel, Rugged Radios – Official Communications, Fabtech – Official Suspension, KC HiLites – Official Light, Lucas Oil Products – Official Oil, Beta Motorcycles – Official Motorcycle, Method Race Wheels, Trophy Tractor, Tuba Art Films, DirtNation.com, R-N-R Steel, Camburg, Tactical Recovery Equipment, Sportsman Cycle Sales, Dicks Racing Suspension, Action Sports Canopies, Metroprint, Fall Advertising, Rhinohub, McKenzies, Slime.
The American Off-Road Racing Series…Best In The Desert!
Further information is available at:
www.bitd.com
email: bitd@bitd.com
phone: (702) 457-5775
MEDIA CONTACT:
www.fallads.com/bitd
email: mediabitd@fallads.com
russt@fallads.com
donaldf@fallads.com
Photos provided by Daniel Curiel
Important notice:
THE USE OF DRONES WILL NOT BE ALLOWED AT ANY BEST IN THE DESERT EVENT. Please be aware, Drones are VERY DANGEROUS to the safety of all concerned, both people in the air and on the ground.
Best In The Desert
Copyright © 2019 Best In the Desert