METHOD RACE WHEELS LAUGHLIN DESERT CLASSIC PRESENTED BY JIMCO DRAWS RECORD RACER TURNOUT & BIG CROWDS
Posted October 17, 2019
Method Race Wheels Laughlin Desert Classic presented by Jimco Draws Record Racer Turnout & Big Crowds
Season Wrap-Up Event Draws Thousands to Laughlin
LAUGHLIN, NV (October 16th, 2019)  –  Best In The Desert,  the largest off-road race series in North America, just wrapped up four spectacular days of off-road racing with the successful running of the  Method Race Wheels Laughlin Desert Classic presented by  Jimco .  The week of racing started with the  UTV Night Race Presented by Baja Designs  on Thursday, which drew more than 100 UTVs to  Best In The Desert's  second Laughin 100% night race. Then with Car and Truck Contingency and Tech on Friday, and two solid days of back to back racing on Saturday and Sunday, and the Laughlin Leap on Saturday evening, the week was filled with excitement and extremely competitive racing, with many championships up for grabs.  All together a record 251 cars, trucks and UTVs, including some of the best-known names in the sport, showed up to compete for bragging rights as to who would be fastest at the river. The racing did not disappoint, as thousands of fans lined the hills surrounding the 16 mile Laughlin course.
"We are extremely pleased with our record turnout at the  2019 Method Race Wheels Laughlin Desert Classic presented by Jimco,"  said  Best In The Desert Operations Manager Donald Jackson . "The  UTV Night Race presented by Baja Designs  was a success in our second year of running this highly competitive event. The  Laughlin Leap presented by Fabtech  for the Car/Truck/UTV community was a thrilling event to experience, as first and second were only about 12″ apart.  Overall, the racing was some of the quickest and toughest of the year."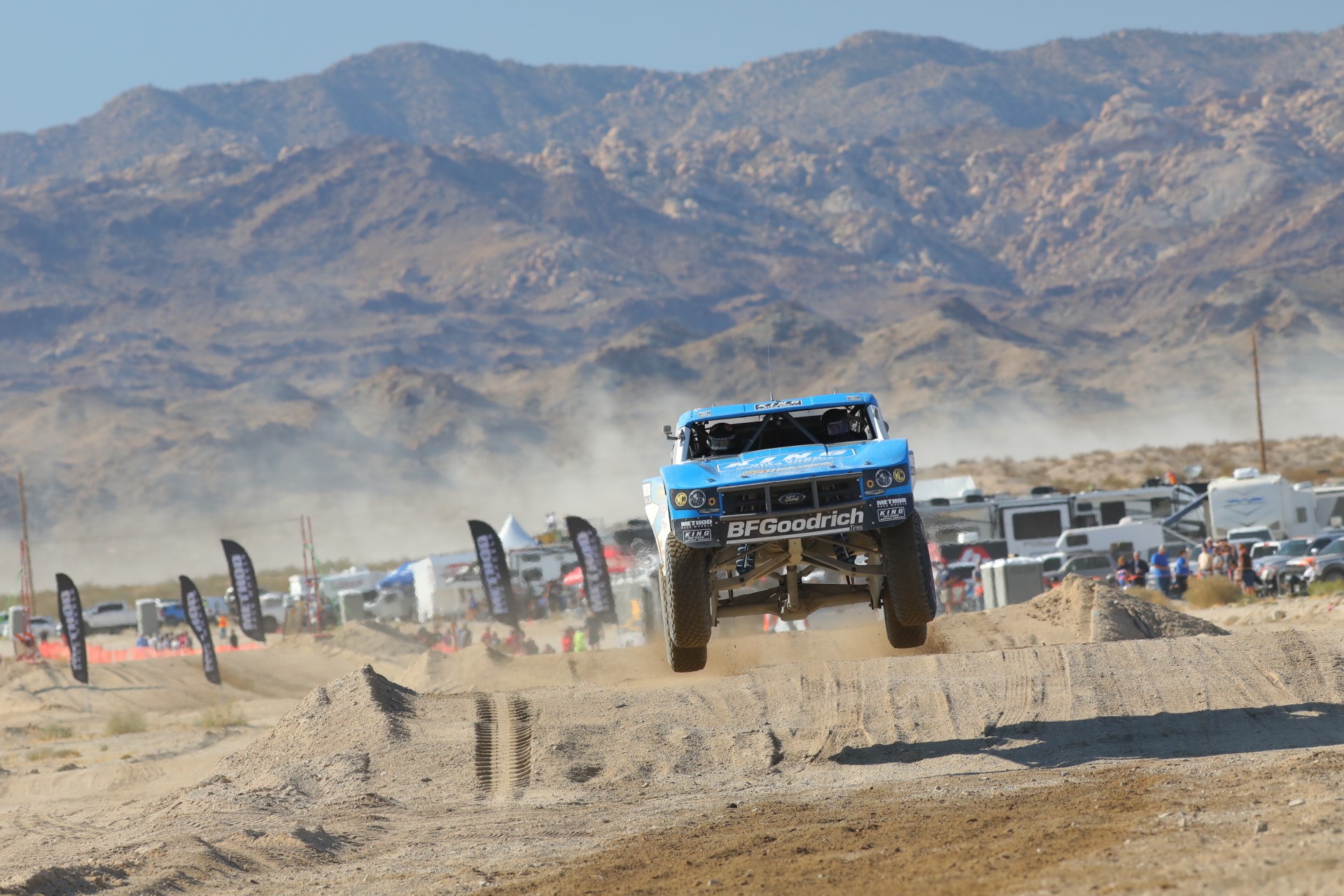 Having won Time Trials for Trick Trucks by 4 seconds, Jason Voss had clear air on day one and captured the win in the Trick Truck Class for the Weekend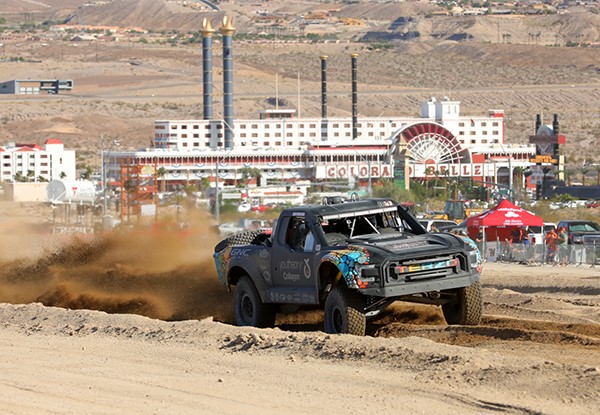 Jeff Terzo grabbed second for the weekend, but the Youtheory Trick Truck won the Year's Trick Truck Class Championship
Adam Householder 1539 won the Class 1500 event, and was 2nd overall for the weekend with a time of 2:07.21.  Kyle Jergensen  won the highly competitive  Class 6100  posting a total time of 2:08:42.  Jergensen  was followed by  Brock Heger  in 2nd place just 8 seconds back at 2:08:50. Randy Merritt took the 7200 Class with a 2:28.50.  TrophyLites  Class 6000  was won by  Cory Winner  in 2:37:44 followed by  Travis Williams  at 2:38:30.
In the UTV Night Race by Baja Designs, Adrian Orellana 1985 took home the overall win in the UTV Production Class.  Brayden Baker U977 grabbed the UTV Rally Class win. David Thomas S902 won UTVS, Mitch Guthrie Jr. T951was the winner in UTV Turbo. Michael Isom 2939 took the win in UTV Unlimited.
The UTV Turbo Class winner was  Mitch Guthrie. Jr.  T951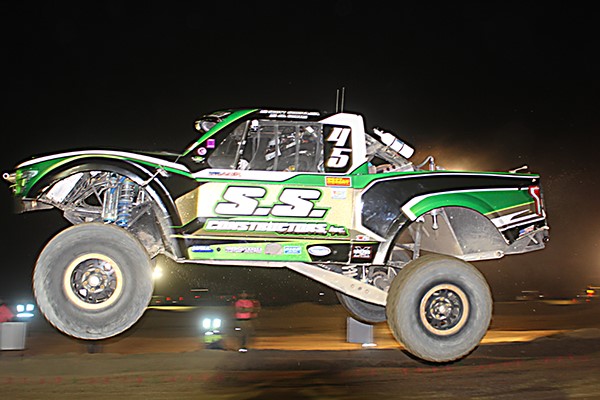 The Fabtech Laughlin Leap was won by JR Curtis in the #45 Trick Truck.
The SS Constructors IC Motorsports Trick Truck flew 118′,
beating  Sam Berri (last year's winner) by one foot!
"This was a tremendous week of racing, and we could not be more pleased with how it all turned out," said  BITD co-owner Bryan Folks . "The racers, the fans and the entire Best In The Desert staff look forward to this sprint-type racing in Laughlin. We had a strong spectator turnout and the enthusiasm we received from everyone was encouraging. I would like to offer a big thank you to all our sponsors and the  Laughlin Tourism Commission  for all their support."
The 2020 Season is coming up quick and registration is about ready to launch. Check the BEST IN THE DESERT website often for updates. Congratulations to all the winners and Class Champions.
FOR SERIES INFORMATION: 
Contact Liz Marshall at Best In The Desert at bitd@bitd.com or by calling 702-457-5775
FOR MARKETING/SPONSORSHIP OPPORTUNITIES: 
Contact Scot Harden at marketing@bitd.com or by calling 951-491-1819
2019 Best In The Desert official sponsors: Ford Motor Company – Official Truck, General Tire – Official Tire, Polaris RZR – Official UTV, VP Racing Fuels – Official Fuel, Rugged Radios – Official Communications, Fabtech – Official Suspension, KC HiLites – Official Light, Lucas Oil Products – Official Oil, Beta Motorcycles – Official Motorcycle, Method Race Wheels, Trophy Tractor, Tuba Art Films, DirtNation.com, R-N-R Steel, Camburg, Tactical Recovery Equipment, Sportsman Cycle Sales, Dicks Racing Suspension, Action Sports Canopies, Metroprint, Fall Advertising Rhinohub, McKenzies, Slime.
Life is an Adventure.
Come Live Your Adventure with Best In The Desert…
THE AMERICAN OFF-ROAD RACING SERIES
Further information is available at:
www.bitd.com
email: bitd@bitd.com
phone: (702) 457-5775
Media Contact:
www.fallads.com/bitd
email: mediabitd@fallads.com
russt@fallads.com
donaldf@fallads.com
Thanks to dirtnation.com and   Daniel Curiel Photographic  for images.