Canidae Tap It Silver State "300" Marks First Best In The Desert Point-to-Point Race of the Year with 221 Entries to Date
Posted April 22, 2015
The dust hadn't yet finally settled on the Mint 400 when racers were already getting prepped for the Canidae Tap It Silver State "300". Set for May 1-3, 2015, this will be Best In The Desert's first point-to-point race of the 2015 season. This race is rich in Eastern Nevada's most scenic high desert beauty and history and features a 300-mile course that includes a mixture of high-desert mountains, sand-washes and high elevations with awesome panoramic views. The race-course runs across vast cattle ranching pastures, through towns where railroading was the primary way of life in the late 1800s, and through the mountains where some of the wildest gold and silver mining camps in the West were located in the 1870s.  The Canidae Tap It Silver State "300" gives racers an opportunity to go back in time and experience what it might have been like to live as a cattle rancher, a miner or a railroad man.  However, there won't be much time for taking in the spectacular sights of the surrounding landscape, as the course is a fast one that demands 100% of the racer's attention.  Due to the traditional high average speed nature of the race, the Canidae Tap It Silver State "300" is notorious for extremely close and competitive overall finishes. This point-to-point race is also a "chase race", allowing pit crews and support personnel to be an integral part of the action.
This is not only a great race to experience, but also a great event to bring the entire family to. Best In The Desert racing is about creating memories and the Canidae Tap It Silver State "300" will definitely live up to your wildest expectations.  The Canidae Tap It Silver State "300" is not just another great desert race, it's also a great adventure!
Registration, Contingency and Tech Inspection will be held on Friday, May 1st, at the Aliante Hotel parking lot in North Las Vegas. Here, fans will be able to check out millions of dollars in race vehicles as well as the latest off-road parts and accessories on display. The 2015 Canidae Tap It Silver State "300" will get under way at 5:30 AM Saturday morning, May 2nd, when the first pro motorcycle leaves the line. The car, truck and UTV classes will follow, as they take the green flag at 9:30 AM. Best in the Desert has again worked closely with the Bureau of Land Management to develop a course with minimal impact to the natural environment. The start line is 15 miles north of Alamo, approximately 120 miles northeast of Las Vegas. The finish line area is located about 25 miles west of the town of Caliente.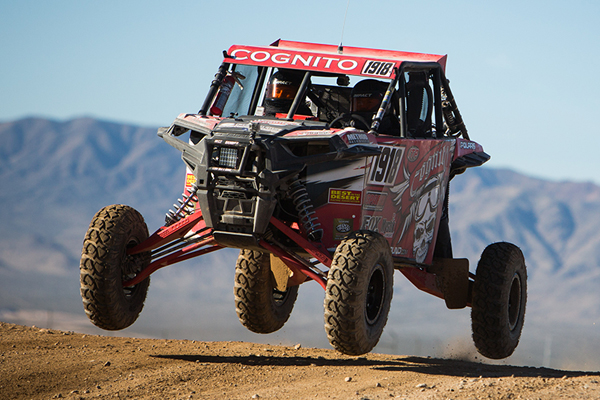 2015 Best In The Desert official sponsors: Ford Motor Company – official truck, General Tire – official tire, Lucas – official oil, VP Racing Fuels – official fuel, KC HiLiTES – official light, Polaris RZR – official UTV, Beta Motorcycles – official motorcycle, Fabtech – official Suspension, Rugged Radios – official communications, 212 Performance Gloves – official gloves, Method Race Wheels, McKenzies, Kartek, Sportsman Cycle Sales, Rockwell Watches, Slime, Azunia Tequila, Fall Advertising and Prerunner Maniac.
The American Off-Road Racing Series…Best In The Desert!
Further information is available at:
www.bitd.com
email: bitd@bitd.com
 phone: (702) 457-5775
MEDIA CONTACT:
www.fallads.com/bitd
email: mediabitd@fallads.com
russt@fallads.com
donaldf@fallads.com
Scott Whipple photo at top provided by MWilsonPhoto.com
Motorcycle photo provided by Beta Motorcycles
Harley Letner Class 1500 car photo provided by DoubleDownPhoto.com
UTV photo provided by FOX
Important notice:
THE USE OF DRONES WILL NOT BE ALLOWED AT ANY BEST IN THE DESERT EVENT. Please be aware, Drones are VERY DANGEROUS to the safety of all concerned, both people in the air and on the ground.
Thanks to our sponsors!