333 Race Teams Set To Take On 545 Miles Of Nevada's Most Challenging Terrain
Posted August 10, 2015
With just a few days remaining before the green flag drops on Best In The Desert's General Tire "Vegas to Reno" presented by FOX, 333 race teams have signed up so far for the "Longest Off-Road Race in the United States". The impressive list of entries includes 39 Trick Trucks, 24 Open Class 1500 Cars, 50 UTVs, 39 Ironmen Motorcycles and Quads, and 24 Class 6100 Spec-Engine Trick Trucks.
This year's event celebrates 19 years for Best In The Desert promoting an off-road desert race in the U.S. over 500-miles long from Southern Nevada to Northern Nevada. This year's race will feature an extremely challenging and adventuresome 545-mile point-to-point course that Casey Folks is famous for.
Racers from the U.S. and around the world are set to compete – with entries coming now from Argentina, Australia, Brazil, Canada, France, Germany, Ireland, Mexico, South Africa, Uruguay and 25 U.S. states.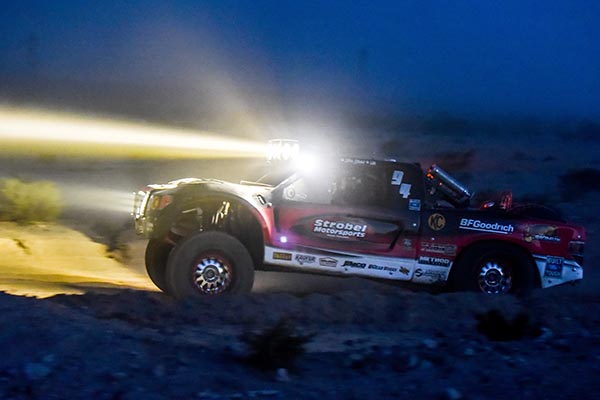 The 2015 General Tire "Vegas to Reno" presented by FOX will start early Friday morning, August 14th near Beatty, Nevada, about 100 miles north of Las Vegas. First off the line will be the Motorcycle classes followed by the Quads. After a substantial delay for safety reasons, the Car, Truck and UTV classes will head out on their quest to reach the finish line and hopefully a victory. The race finishes south of Reno, Nevada in the town of Dayton.
General Tire "Vegas to Reno" presented by FOX schedule of events:
Wednesday, August 12 – Time Trials for Class 1400 and Class 1500, FOX Welcome Party at the beautiful Alinate Casino Hotel in N Las Vegas
Thursday, August 13 – Driver Registration, Technical Inspection and Contingency, Aliante Casino Hotel
Friday, August 14-15 – Race Day, this is a 24-hour race so that's why it starts on Friday. Finish line closes at 11 am on Saturday.
Saturday, August 15 – Awards Presentation, Grand Sierra Resort, Reno, NV
Red Bull will be supporting contingency at the Aliante Casino & Hotel in North Las Vegas, and also at the finish line at the Dayton, Nevada Event Center.
The General Tire "Vegas to Reno" presented by FOX also represents the beginning of the second half of the 2015 Best In The Desert Season. With three races already in the books, the class points battles are really starting to take shape for the race to season class championships. Best in the Desert holds 6 races annually for their car and truck classes, attracting the leading off-road teams from around the world.
Current 2015 Class Points Standings
Car and Truck Classes:
Trick Truck
Gary Weyhrich – 354
Rob MacCachren – 349
Steve Olliges – 340
CLASS 1500
Cody Parkhouse – 336
Sam Berri – 332
CJ Hutchins – 325
CLASS 1000
Chip Prescott – 348
Jason Coleman – 345
Roger Starkey – 343
CLASS 1100
Justin Buckley – 102
Jeff Sanca – 98
Clayton Etcheson – 95
CLASS 1700
Garett Allred – 304
Mike Bragg – 292
Rob Seubert – 286
CLASS 2000
Joshua Cobb – 235
Paul Nauleau – 177
Nathan Martino – 174
CLASS 2400
Bryan Folks – 234
John Hsu – 190
Clint Armstrong – 180
CLASS 3000
Mike Bach – 98
Charles Julian – 94
Nic Bayes – 48
CLASS 3700
Bob Mamer – 271
Billy Bunch – 216
Tom Barnett – 184
CLASS 6000
Andrew McLeod – 294
Todd Jackson – 283
Jeff Proctor – 280
CLASS 6100
Alex Gonzales – 311
Tyler Denton – 300
Jerry Zaiden – 300
CLASS 7200
Steve Kovach – 296
Gary Messer – 293
Al Hogan – 283
CLASS 8000
Don German – 271
Macrae Glass – 216
Dave Westhem – 101
Pro Motorcycle Classes:
OPEN PRO
Ricky Brabec – 264
Nick Burson – 212
250 PRO
Clayton – 260
Jeremy Purvines – 256
Stephen Trujillo – 252
O-30 PRO
Chris Brown – 264
Peter Garfinkle – 198
O-40 PRO
Chad Thornton – 261
Pro Quad Class:
QUAD PRO
Jeff Hancock – 273
Danny Prather – 261
Cody Mitchell – 249
Pro UTV Classes:
1900 PRO
John Angal – 496
Scott Kiger – 485
Branden Sims – 473
UNLIMITED PRO
Lacrecia Beurrier – 369
Justin Brisbon – 276
Steve Scott – 224
2015 Best In The Desert official sponsors: Ford Motor Company – official truck, General Tire – official tire, Lucas – official oil, VP Racing Fuels – official fuel, KC HiLiTES – official light, Polaris RZR – official UTV, Beta Motorcycles – official motorcycle, Fabtech – official Suspension, Rugged Radios – official communications, 212 Performance Gloves – official gloves, Method Race Wheels, McKenzies, Kartek, Sportsman Cycle Sales, Rockwell Watches, Slime, Azunia Tequila, Fall Advertising and Prerunner Maniac.
The American Off-Road Racing Series…Best In The Desert!
Further information is available at:
www.bitd.com
email: bitd@bitd.com
phone: (702) 457-5775
MEDIA CONTACT:
www.fallads.com/bitd
email: mediabitd@fallads.com
russt@fallads.com
donaldf@fallads.com
Top masthead photo inset of CJ Hutchins provided by MikesRacePhoto.com
Steve Strobel photo provided by KC HiLiTES
Gary Weyhrich photo provided by DirtFocus.com
Important notice:
THE USE OF DRONES WILL NOT BE ALLOWED AT ANY BEST IN THE DESERT EVENT. Please be aware, Drones are VERY DANGEROUS to the safety of all concerned, both people in the air and on the ground.