How to Get into Motorcycle Racing
Posted October 7, 2021
It's hard to describe the thrill of competing in a motorcycle race – there's the speed, the uncertainty, and the absolute elation you feel when you pull out in front. Truly, it's something that you need to experience for yourself – and if you want to get into motorcycle racing, then the day when you pull up to the start line of your first race probably isn't that far away. 
Getting into motorcycle racing isn't too difficult. The sport is largely accessible, and as long as you follow a few steps, you'll be well-prepared for your first race. 
Decide Which Type of Racing is for You
One of the great benefits of the motorcycle racing world is that there are so many sports you can choose from. Road racing, motocross, track racing, and off-road motorcycle racing offer you plenty of variety, and each one delivers a completely different experience. Think about your goals, the environment where you want to race, and which type of racing is right for you.  
Whether you're ready to hit the tarmac for your first road race or are bound for the dusty thrills of off-road racing, you'll also need to choose the right sportbike and equipment. If you already have a motorcycle, you can likely modify it to be track-ready. 
If you're in the market for a race bike, you can't go wrong with a top brand like Honda, Yamaha, Kawasaki, KTM, Husqvarna, or Beta, but this is a decision you need to make carefully. Talk to other motorcycle racers and do some research into the benefits that each make and model offers to your sport. 
Get Your Race License and Join a Club
Racing clubs can help to get you started in the sport, and they're valuable hubs of information and connections that will help you to learn about racing. Search for your local racing clubs and decide which one is right for you. 
Some associations require racing licenses that have to be earned or accredited by a formal racing school or institution. Racing schools come in all shapes and sizes and are available for almost every discipline of racing. Many clubs maintain calendars of new racer school track days. Get yourself booked early, since these days can fill up, and you won't be able to compete until you have your race license.  Off-road racing schools can be found through social media, doing web searches, and talking to others.
This is also the time to take a look at the club's rulebook. These rulebooks cover everything from racing rules to the specifications for your racing motorcycle. On a  national level, the AMA rulebook is used by the majority of racing associations, but some have their own rulebooks, too. You'll want to get familiar with the book so that you can prepare for your race. The rulebook will also specify the safety equipment you need to have, so you can start shopping ahead of time. 
Practice, Train, and Practice Some More
Motorcycle racing is one of the most physically demanding sports in the world. You must be in excellent shape both physically and mentally to race motorcycles. Establishing a good diet and physical training regime is an essential part of becoming a motorcycle racer. Next, you need to practice, train, and practice some more to develop your skills and abilities as a rider. Once you start racing start at the beginner or novice level and work your way up as you gain experience and learn your craft. Motorcycle racing is not for daredevils. It is a thinking man's sport that requires hard work, discipline, determination, and a commitment to continuous self-improvement and growth. You should have logged plenty of hours of practice and training before you enter your first race. 
Head to Your First Race
There's no forgetting the first time you head to the race track as a competitor. That first race weekend is full of excitement and nerves, but the motorsport industry is also one of camaraderie, and you'll find that there are plenty of people who are willing to help you get started. 
Before the race, look into entry fees and fill out your registration. The registration desk can get busy, so get there early and have your race license and paperwork ready. 
You'll want to learn the race day schedule so you have plenty of time to get ready, but once you get into the rhythm, you'll find that motorcycle racing is a ton of fun. You'll soon build a racing family of great friends, and they'll make race days even better. 
Keep it Light
Heading into racing with the right attitude can help you to enjoy the sport more. Don't go in expecting that you'll win your first, second, or even your third time out on the track. This is a physical sport that requires plenty of skill, and you'll only develop that through practice and experience. Enter your first races with the goal of having fun and learning. 
As you gain experience, you'll be able to tackle harder courses, shave down your lap times, and even get experience qualifying into more advanced motorcycle races and events. You might find that you want to get serious and focus on sponsorship and other big-time opportunities, or you might want to stay in the sport for its fun, lower-pressure competitions. 
The motorcycle racing world is like no other. There are countless opportunities and routes you can take, and there's nothing like the thrill of the first time you start in a race. Just be warned – if you get a taste of motorcycle racing, you'll want to be right back at the starting line again and again.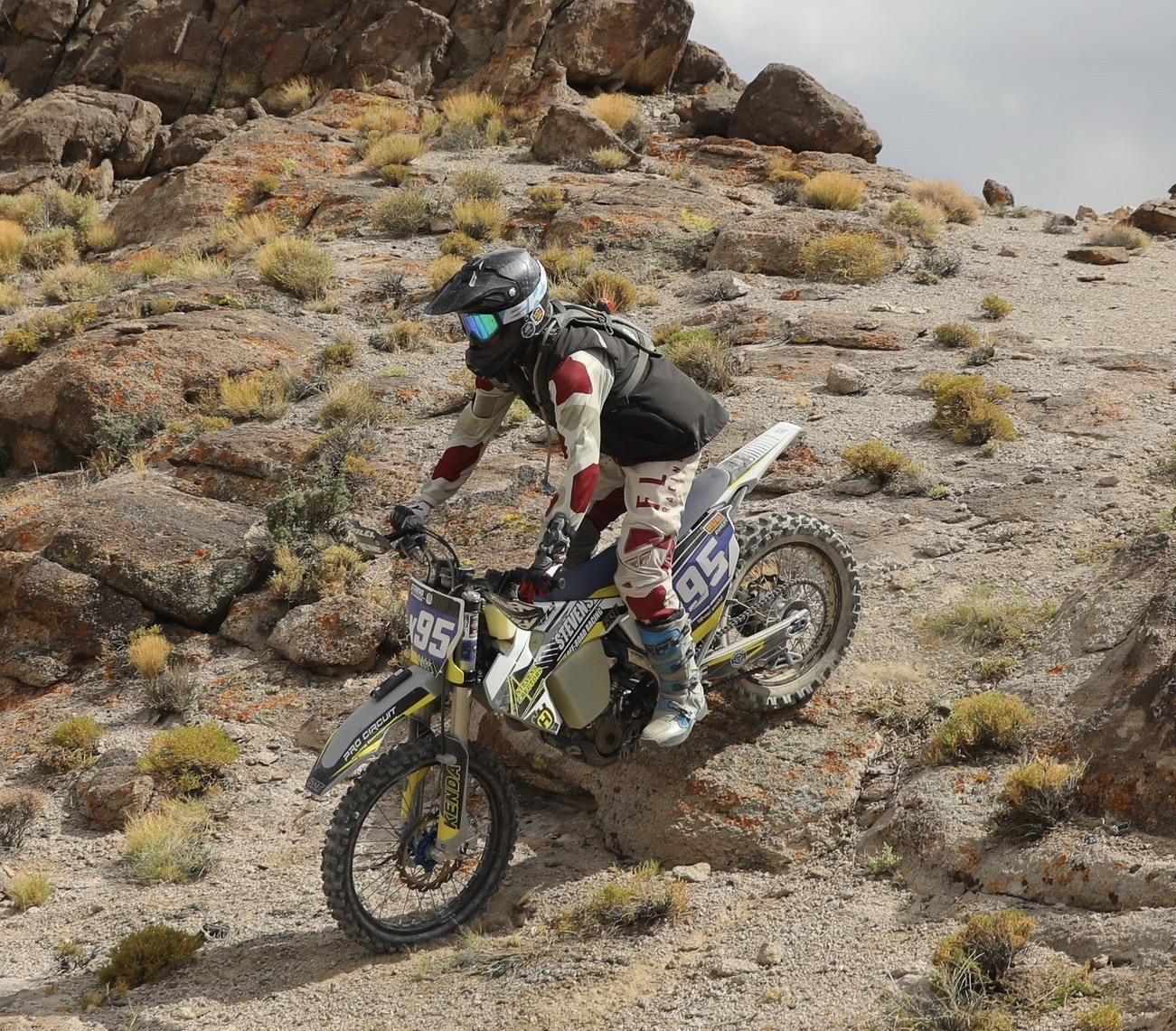 Off-Road Motorcycle Racing
Off-road motorcycle racing is a particularly thrilling type of motorcycle racing. If dirt and dust flying and rough, off-road tracks sound like your thing, then you'll want to consider these different off-road racing types: 
Motocross

Enduro 

Grand National Cross Country

World Off-Road Championship Series

Grand Prix

Hare and Hound

Supercross

Arenacross

Endurocross

Trials

Freestyle

Best In the Desert
At Best in the Desert, you'll be able to choose from a wide variety of off-road racing classes that accommodate many different race vehicles. In addition to vehicle classes like Pro Limited Car/Truck and Jeepspeed, we offer three motorcycle classes: 
Pro Motorcycle – 399, Open, Ironman, O-30, O-40

Expert Motorcycle – 399, Open, Ironman, O-30, O-40, O-50, Adventure, Women's, Family

Amateur Motorcycle – 399, Open, Ironman
With such a great variety of classes, there's something here for everyone. 
Best In The Desert
Ready to get started in motorcycle racing? If you're interested in off-road racing, then there's no better place to start than with the Best in the Desert Racing Association. Take a look at our upcoming race events and contact us with any questions.
To further induct yourself into the community, read some off-road articles in The Official Magazine of Best In The Desert Racing Association, DirtVenture. By getting familiar with the terminology, top racers' names, and vehicles involved, you'll sound like an expert come your first race. 
"Life is an adventure, come live your adventure with Best In The Desert!" – Casey Folks
Thanks to our sponsors!