The BlueWater Resort & Casino Parker "425" Presented by IMPACT Marks Best In The Desert's Season Opener for the Car and Truck Classes
Posted February 12, 2019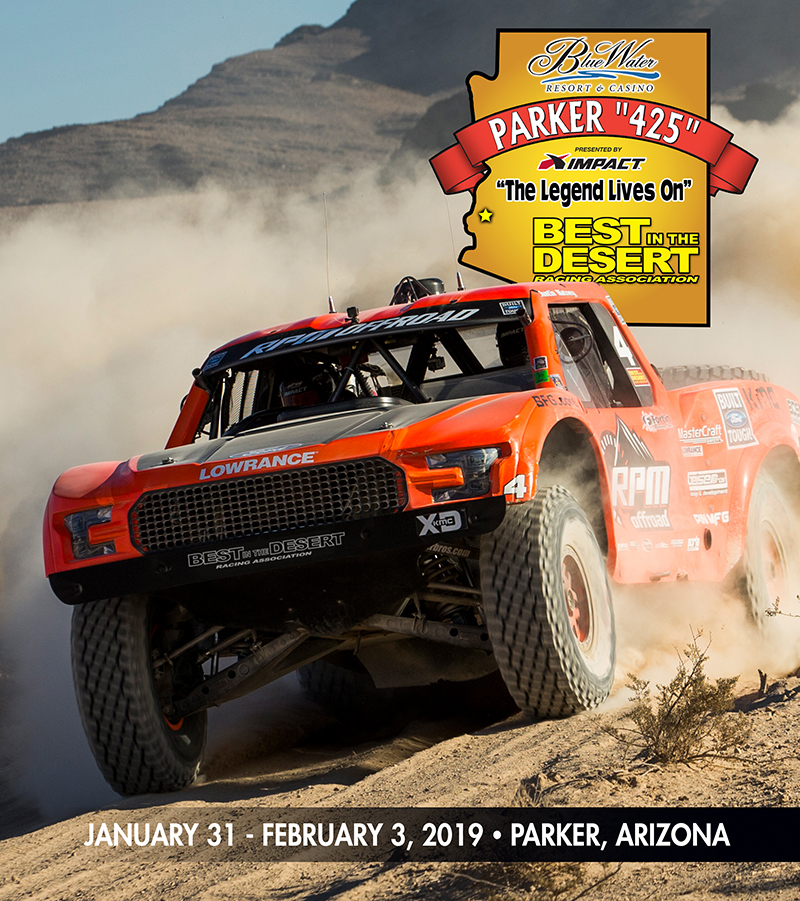 The BlueWater Resort & Casino Parker "425" Presented by IMPACT gets underway this Thursday with Time Trials for Trick Trucks and Class 1500 Unlimited Desert Cars, followed by a separate qualifying session for Class 6100 – Spec Engine Trick Trucks. This will be the first event where some 2018 Class Champions will try to earn good starting positions for Saturday's race in an attempt to launch their quest for a repeat in 2019.
Justin Matney dethroned 2017 Trick Truck Champ Jason Voss to earn his very first Best In The Desert Trick Truck Championship in 2018 as well as the Car/Truck Grand Champion. Matney will be up against a challenging field of the world's top desert racers when he takes the start at Time Trials hoping to capture the coveted "Team Ford Pole Award" and the first overall starting position for the race.
Pat Dean was crowned the 2018 Class 1500 Class Champion. For 2019, he'll be handing over the driving duties of the highly recognizable bright green car to his son, James Dean. James will have the whole season to see if he can follow in his father's footsteps.
The Class 6100 Trucks have the largest number of entries for this year's BlueWater Resort & Casino Parker "425" Presented by IMPACT and to help commend these 6100 teams,  Alexander Ford will be paying $1000 Cash with a beautiful trophy to the Fastest Class 6100 Qualifier. 2018 Class Champ Terry Householder will definitely have his hands full as he battles a strong field of 48 to start the 2019 season. One very interesting challenger Householder will have to face is back-to-back Class 1000 Champion Brock Heger, who's stepping up to a new AlumiCraft 6100 Truck for this year.
Following Time Trials on Thursday is the 11th annual Parker Downtown Experience. All the participating race vehicles from Time Trials will be on display for the citizens of Parker to check out up close at this festive event. The Event Expo get underway at 9:00 AM Friday morning and lasts all day in the BlueWater parking lot along with tech inspection and contingency.
The excitement comes to a head Saturday morning when the green flag officially drops on the 2019 BlueWater Resort & Casino Parker "425" Presented by IMPACT. The first race start takes place at the "Parker Python" at 6:00 AM. This start will feature two groups. One group is made up of 2-lap Classes 1700, 2000, 2700, 3700, 4700, 7300, and 8100. The other group is 3-lap Classes 1000, 1100, 3000, 5000, 6000, 7200, and 8000.
The second race start takes place Saturday afternoon at 1:30 PM on California Ave. in the middle of downtown Parker. This second start features the fastest race vehicle classes, including Trick Trucks, 1500, 6100, and 6200.
There are two ways race fans can follow the 2019 BlueWater Resort & Casino Parker "425" Presented by IMPACT. Realtime satellite tracking will be available from RacingTrax, https://racingtrax.com. Plus, live streaming will be presented by DirtLive 2 at http://livestream.com/accounts/11377457/events/8536652. George Antill will be broadcasting from the finish line in the parking lot at the BlueWater Resort & Casino with race updates and interviews of the finishing race vehicle drivers.
[one_half]
[/one_half] [one_half_last]
[/one_half_last]
---
For More Information, Please contact:
email:  bitd@bitd.com   or call  702 457 5775
2019 Best In The Desert official sponsors: Ford Motor Company – Official Truck, General Tire – Official Tire, Lucas Oil Products – Official Oil, VP Racing Fuel – Official Fuel, Rugged Radios – Official Communications, Fabtech – Official Suspension, Polaris RZR – Official UTV, KC HiLiTES – Official Light, Beta Motorcycles – Official Motorcycle, Method Race Wheels, American Fastbacks, Tactical Recovery Equipment, Trophy Tractor, R-N-R Steel, Dicks Racing Suspension, Slime, McKenzies, Sportsman Cycle Sales, Fall Advertising and TrueTravel Dynamics.
Life is an Adventure.
Come Live Your Adventure with Best In The Desert…
THE AMERICAN OFF-ROAD RACING SERIES
Best In The Desert Racing Association
www.bitd.com
email: bitd@bitd.com
phone: (702) 457-5775
Media Contact:
www.fallads.com/bitd
email: mediabitd@fallads.com
russt@fallads.com
donaldf@fallads.com
Photo provided by Bink Design
Thanks to our sponsors!