Best In The Desert Celebrates Outstanding Start To 2019 Season With Back-To-Back Events In Parker, Arizona
Posted March 1, 2019
It's been a great start to the 2019 race season for North America's leading off-road racing organization, Best In The Desert. The GMZ UTV Winter Nationals Parker "250" Presented by Polaris® RZR held at the beginning of January welcomed in the new year in great fashion with a record breaking number of entries for the UTV, Motorcycle and Quad Classes. The event featured a weekend full of racing action that not only saw youth and short course UTV racing, but also the inclusion of Best In The Desert's newly introduced UTV desert racing classes.
The GMZ UTV Winter Nationals Parker "250" Presented by Polaris® RZRwas followed by the BlueWater Resort & Casino Parker "425" Presented by Impact held January 31st through February 3rd. This legendary event kicks off the race season for Best In The Desert's Car and Truck Classes. For the week, it seemed like the entire city of Parker, Arizona and the surrounding communities came out to witness off-road racing at its finest. The 11th annual "Parker Downtown Experience", where race fans could view the Time Trials vehicles, talk with the racers, and enjoy the festivities, was the busiest it has been in years. The areas surrounding the race were packed with thousands of excited spectators taking in all of the action. The strong field of race vehicles included a record number of entries in the rapidly growing Class 6100 trucks for Spec Engine Trick Trucks as 47 teams showed up to take on the challenge of the famous Parker 425 desert course.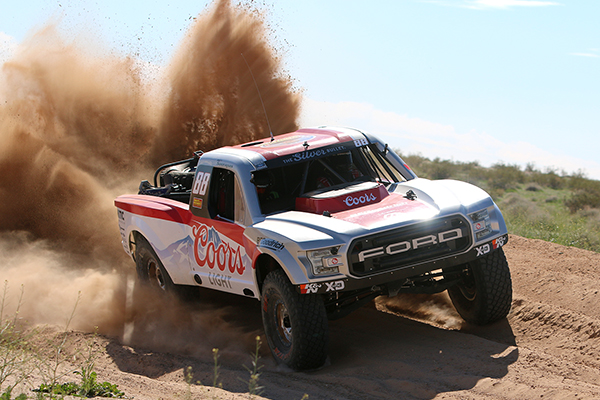 At the end of 425 brutal, rocky, and sometimes soaking wet miles as the skies opened up Saturday night, it was Brett Sourapas that brought home the overall win, followed by Cole Potts and Troy Herbst. Class winners for the BlueWater Resort & Casino Parker "425" Presented by Impact included:
Trick Truck – Brett Sourapas
Class 1500 – Bob Lofton
Class 6100 – Brock Heger
Class 1000 – Chase Warren
Class 1700 – Rob Seubert
Class 2000 – Tom Scaggs
Class 2700 – Skyler Gambrell
Class 3700 – Scott Dzierzanowski
Class 4700 – Billy Bunch
Class 5000 – John Willard
Class 6000 – Travis Williams
Class 6200 – Darren Ebberts
Class 7200 – Jeff Proctor
Class 7300 – Chad Hall
Class 8100 Sportsman – Sam Wasson
For full results, go to http://new.bitd.com/wp-content/uploads/2019/02/2019-Unofficial-Parker-425-By-Class.pdf
---
With two races in the books for 2019, next up on the Best In The Desert schedule is the BFGoodrich MINT 400 powered by Monster Energy, March 6-10 in Las Vegas, NV, followed by:
POLARIS RZR UTV WORLD CHAMPIONSHIP
April 5-7 (Race in Laughlin, NV)
VT CONSTRUCTION SILVER STATE "300" presented by POLARIS RZR
May 2-5 (Race starts north of Alamo, NV)
GENERAL TIRE CASEY FOLKS "VEGAS TO RENO" presented by FOX
August 14-17 (Race activities start in Las Vegas, NV)
METHOD RACE WHEELS LAUGHLIN DESERT CLASSIC presented by JIMCO RACING
OCTOBER 10-13 (2-day Race in Laughlin, NV)
Click on the covers below to view the GMZ UTV Winter Nationals or Parker "425" souvenir event programs.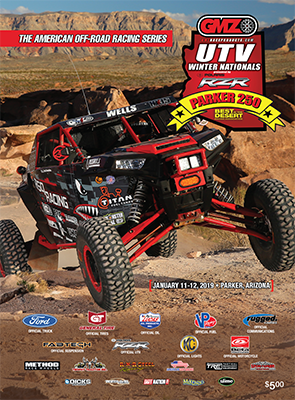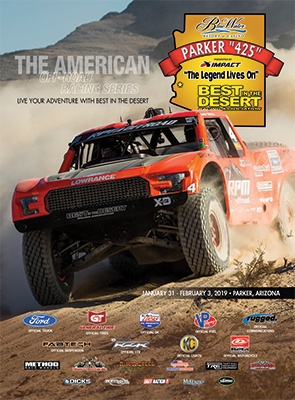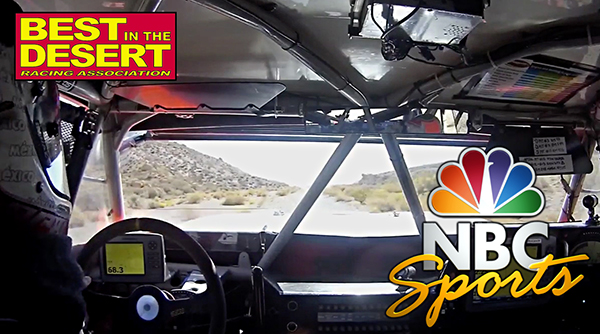 2019 Best In The Desert official sponsors: Ford Motor Company – Official Truck, General Tire – Official Tire, Lucas Oil Products – Official Oil, VP Racing Fuel – Official Fuel, Rugged Radios – Official Communications, Fabtech – Official Suspension, Polaris RZR – Official UTV, KC HiLiTES – Official Light, Beta Motorcycles – Official Motorcycle, Method Race Wheels, American Fastbacks, Tactical Recovery Equipment, Trophy Tractor, R-N-R Steel, Dicks Racing Suspension, Slime, McKenzies, Sportsman Cycle Sales, Fall Advertising and TrueTravel Dynamics.
Life is an Adventure.
Come Live Your Adventure with Best In The Desert…
THE AMERICAN OFF-ROAD RACING SERIES
Best In The Desert Racing Association
www.bitd.com
email: bitd@bitd.com
phone: (702) 457-5775
Media Contact:
www.fallads.com/bitd
email: mediabitd@fallads.com
russt@fallads.com
donaldf@fallads.com
Sponsorship Opportunities, contact
Scot Harden
email: scot.harden@harden-offroad.com
phone: 951-491-1819
Brett Sourapas and Brock Heger Photos by dirtfocus.com
Thanks to our sponsors!