The Female Racers of Best In The Desert
Posted December 16, 2021
If there's one attribute that a female off-road racer has over male racers, it's empathy. These women are incredibly competitive, but they will never hesitate to stop on the course to help fellow racers or take a younger racer under their wing. While gender shouldn't dictate how a racer competes, there is something to be said about maternal instincts. 
Best In The Desert added the Women M/C Class starting in the 2020 series, which, due to the pandemic, was a hard year to launch anything. But because the association kept organizing races with protocols in place the female motorcycle series was a success and keeps on growing. As for the female UTV racers, they are right in there going head to head with male competitors in their prospective classes. 
In such a male-dominated sport, it's hard to separate gender from the competition. Yet, all these female racers share the same sentiment: they want to be recognized for their skills rather than because they are good drivers and they are women. 
These female racers are so much more than just racers: they are mothers, daughters, sisters, and friends. They love the thrill of coming off the line as much as any competitor but they love the camaraderie and the Best In The Desert family nearly as much. 
Angie Mitchell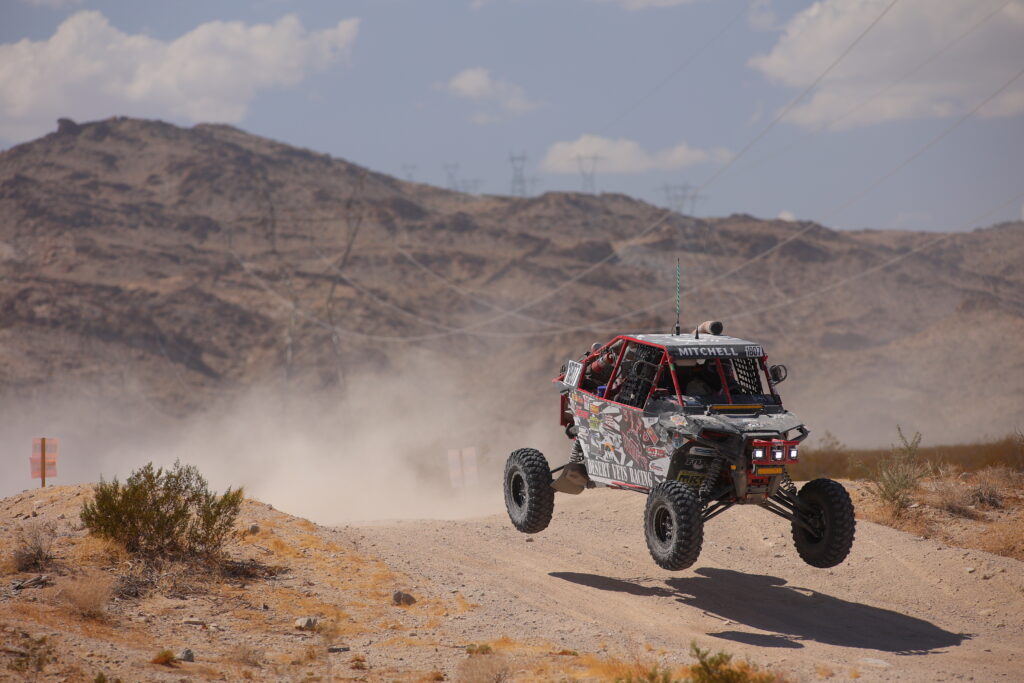 As the resident racing veteran in the sport, Angie Mitchell has been competing, and winning, since 1985. She rode motorcycles with her dad as a kid and got started racing at 14 years old. When she was 16, she made a name for herself at the Arizona Desert Racing Association (ADRA) winning 2nd place in 1985 and taking the title of Woman's Champion in 1986. 
Her first Best In The Desert competition was the Parker 400 in 1987 where she placed seventh in a highly-competitive pool of male racers. While she loved to compete, life called her off the desert for a short while.
"I went on to be an adult for a little bit, got married, had kids, you know, life went on. But then we moved back to the desert. I love the desert, and I started volunteering for BITD and SNORE. And just like that, I was back in it, even if it was on the sidelines."
Angie was pit crew chief for her husband as he raced UTVs and even though she loved being on the support team, it was time to get behind the wheel again. She tried her hand racing a three-wheeler and a quad in Mexico and even took on some Powder Puff races, driving a Class 10, 1300, and a TrophyLite truck. But she found her love for racing again behind the wheel of a Polaris UTV. 
While COVID disrupted her trajectory to drive for Polaris, she is still making huge strides in her racing career. She earned second place in Best In The Desert's 2021 Rookie of the Year competition and will continue to race while extending her love for the sport to newcomers, specifically veterans. 
While Angie loves being behind the wheel out in the desert, the longest races are her favorite, her true passion is getting veterans in the driver's seat. She volunteers most of her free time with Desert Vets Racing, a project founded by Micahel Pascarella, to change veterans' lives by getting them involved in the off-road racing world. Her next goal is to get female veterans behind the wheel. 
As for being a female in such a male-dominated sport? She honestly doesn't think about it that often, maybe because she's been doing it for so long. 
"Honestly, racing against men isn't as tough as going against kids! Some of these young racers have incredible endurance and stamina," says Angie. "Being one of the oldest competitors in the class is harder than being a woman! But it is so cool to see this younger generation coming up, with so many of them being girls. I've loved watching the sport grow and change."
Angie drives a Polaris UTV with the iconic 5150 Whip off the back. She wants her fellow "silly boy" racers to "chase the whip!" She also wants all the new racers to know that they can compete with little resources. Angie and her husband work on their rigs out of a one-car garage. They do all the prep themselves; they don't need anything fancy!
Krista Conway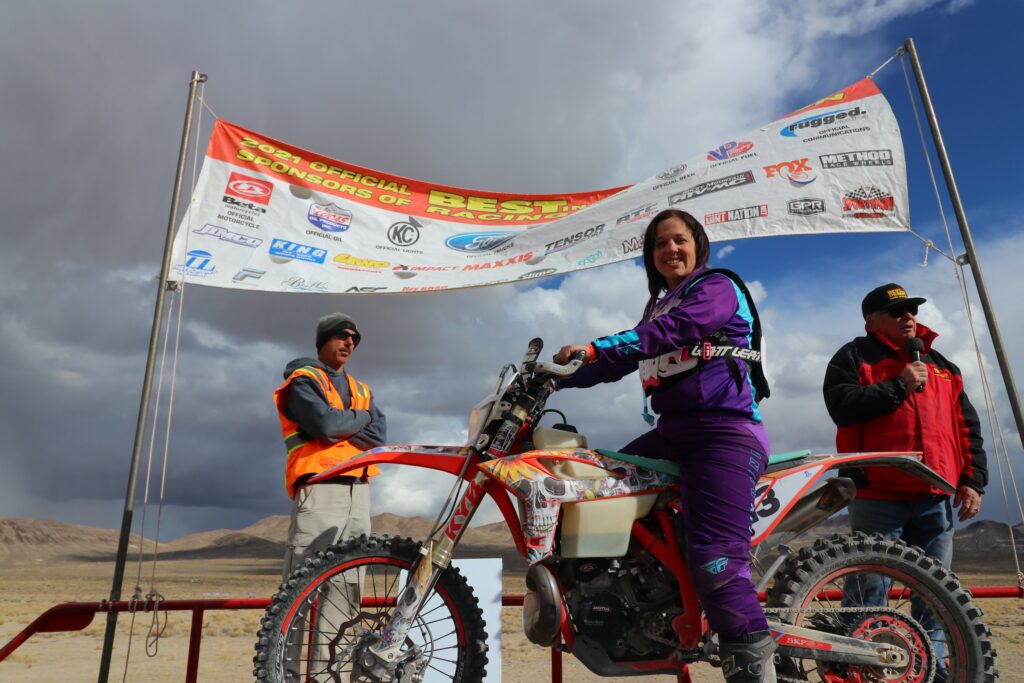 Krista Conway is a long-time Best In The Desert competitor, often competing in male-dominated motorcycle classes. In fact, she was second place in points for the Ironman Exp Class by the end of Best In The Desert's 2021 series. That is quite the feat. 
While she considers herself, as do all the men she beat, a serious racer, she is first and foremost a mom. As a stay-at-home mom to a 10-year-old son, all her free time is…not really free! But they spend time at off-road events as her son competes in the local Motorcycle Racing Association of Nevada (MRAN) series riding his 80 and watches his mom race too. He's her biggest fan!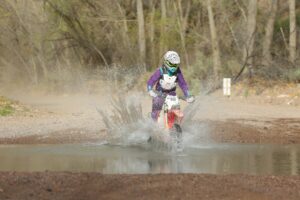 Krista is nurturing a love of motorcycle racing in her son, as her dad did with her. She grew up in Boulder City, Nevada riding motorcycles with her dad and brother. Now, after 28 years of racing, she and her family are staple competitors at Best In The Desert events. Her dad now races trucks in the series and it's become a family affair. 
This year, Krista attempted Vegas to Reno solo. And while she only made it halfway due to rough conditions, there were a few instances that she thinks represent the fact she is a female racer. 
"The conditions at V2R were really tough this year and there was a lot going on on the course. I ended up stopping to help a racer who crashed after six other racers passed him by. The guy had to be med-vacced out," said Krista. "I think that speaks to the level of compassion in female racers versus males. Men are so competitive, so serious! I don't know a single female racer who wouldn't stop to help someone who crashed on the course. Maybe it's the mom in me, but there's no way I could just pass by."
Krista has been competing more and more in the Best In The Desert Woman's Class, away from the co-ed classes, even though she's proven she can compete there too. She is happy that Best In The Desert decided to build a separate class for females. 
As for the future? She'll always race. At the time of this interview, she was preparing for the Mint 400; her son loves the parade. She will continue racing, supported by Herling Racing and Off-Road Vixens, in all of her favorite series: Best In The Desert, Legacy Racing, and MRAN, with her son by her side!
Brook Jensen
Brook Jensen had a good year of UTV racing in 2021, recently taking second in the Desert Pro Unlimited Class at the UTV World Championships. She's been racing since she was 10 years old, learning to drive cheap cars in local California races near her home in Piñon Hills. Even though she was driving junk cars, she was still getting on the podium!  
Soon she bought a 900 car from a family friend who unfortunately passed from cancer. The new car was sentimental, they kept the racing number, and since she was 16 and officially aged out of the youth classes, it was her next step into the NA Class. 
Brook raced her first Best In The Desert race in 2017 in the NA Class. She was new to desert racing but instantly fell in love with the" vibe and family feel." She loved meeting such experienced racers, who were eager to bring her into the sport. Everyone was "super calm and cool."
Her favorite race is Vegas to Reno, which she drove 17 hours straight two years ago. 
"That's a super rewarding race, especially as a female. It's a huge feat. But honestly, I don't look at myself as a 'female' racer. When I put my helmet on, I'm a racer just like everyone else. I work on my cars, I know the mechanics, I get down and dirty too!"
While Brook is competitive, in fact she can get downright aggressive when she's on course, she knows it's not always about winning. She loves being an inspiration to upcoming female racers and enjoys introducing the sport to newcomers. She uses the hashtag #girlscantoo and wants young racers to look to her for advice, much like she did with late racer Jessi Combs who died after crashing trying to attempt to beat her four-wheel land speed record.
"Jessi would always take the time to teach me about the sport. It was about collaboration, not just competition. I want to do the same with the next generation of female racers!"
Brook has been diagnosed with Lyme disease and uses racing as an escape. It's a way to only focus on what's in front of her; everything else just melts away when it's just her in the desert. She wants to continue her career as a female racer in a male-dominated sport. And enjoy herself behind the wheel along the way.
Alexia Leaming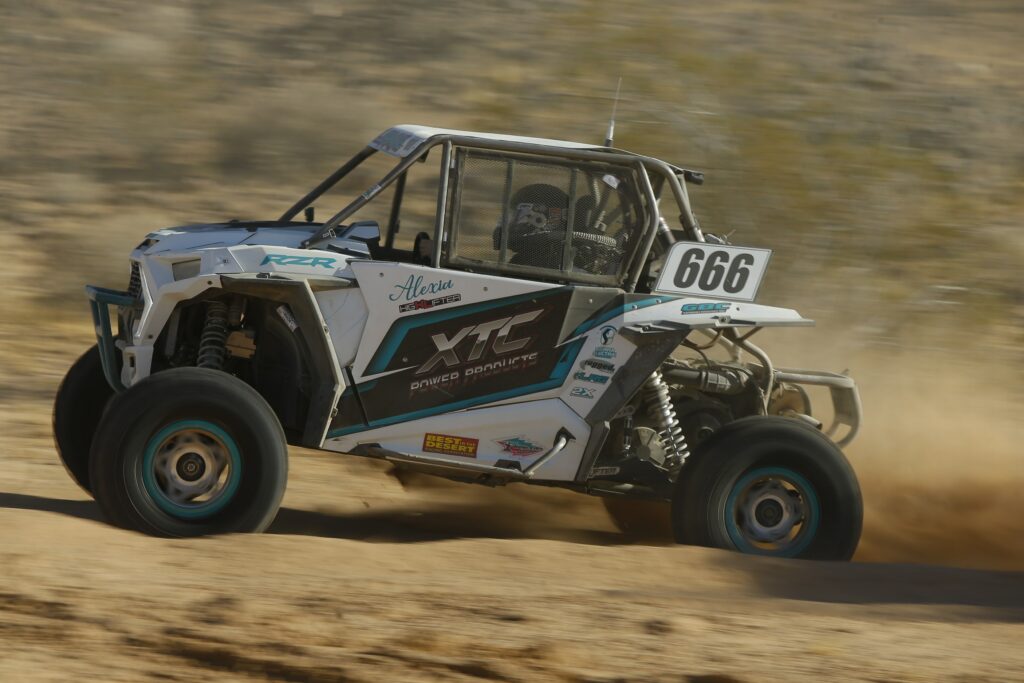 Alexia Leaming is a young female racer and while she competed in the Y1000 Class this year, next year she is going full desert. She's come leaps and bounds from her first full year of racing in 2020.
Alexia grew up in a family of racers. Her brothers Jaxon and Cameron race with Best In The Desert, as does her father, Chris Leaming.
"She's got a kick-ass drive, just like her dad, with an attitude just like her mom," says Chris Leaming who is out riding the dunes and rock crawling with his kids every weekend. "We have to make sure it isn't racing all the time. There needs to be some escape from the pressure."
Alexia had a tough year competing against the boys in the Y1000 Class, famously cartwheeling off the start at the Tensor Tire Parker 250 after getting clipped from behind to roll four times and then keep racing. Her dad has to remind her that legends get knocked off course from time to time. 
"At 14, Alexia is one of the only young girls out there and the boys in her class are all going through puberty… they don't like losing to a girl and can get pretty aggressive about it," says her dad. Everyone is pretty excited about Alexia going full desert next year. 

Alexia Leaming is ready to race hard in 2022. Photo Cred: Harlen Foley

"I'll be 15 next year, so I know more eyes are going to be on me," says Alexia. "Not only because I'm young, but because I'm a girl, sure. But I also think that a lot of people have a lot of respect for me because of that too. I know how to work on my car, I can do it all myself, and we built a two-seater to race the pro stock class next year. I'm excited." 
Alexia and Ruslan Yankilevich drove Vegas to Reno this year, finishing sixth place in the Rally Class and earning the title as the youngest drivers to ever race in the longest off-road race in the country. Alexia drove six hours, 240 miles, all at night. To say that she is ready for the next challenge is an understatement. 
And she has great role models in the sport to look up to. Sierra Romo and Maddy Wedeking are two female racers that she respects and considers her mentors. She can't wait to race with them next year!
Brook Lynn Deman
At only 19 years old, Brook Lynn Deman will be the next gal to beat. She comes from a Best In The Desert background, growing up going to the races and hearing stories of past events. Her dad won the MC Championship Title in 2002 and it's been Brook Lynn's dream to follow in her father's footsteps ever since. 
In 2018, Brook Lynn went to a WORCS SxS race and saw female competitors walking around. She didn't even know that was a thing. She asked her dad if she could race too. "Baby, you can do anything you put your mind to," her dad told her. 
Brook Lynn started racing a Can Am 900 and was successful from the start. She won her first WORCS race in the fall of 2018 by a full two minutes with only a few weeks of practice under her belt and then went on to win the championship title the following season. She was hooked. 
2019 marked her first Best In The Desert competition where she placed third at the UTV World Championships, which is one of her favorite races. In 2021 she went full desert when she attempted and completed her first Vegas to Reno. 
"I was in the car for a full 15 hours as co-driver. I was so exhausted. But I really felt good driving desert; I might even be a better desert racer. I'm excited to get more experience."
Brook Lynn is planning on racing as much of the 2022 Best In The Desert schedule as she can. She needs to figure out the balance between financing races and doing it as a career. 
"While it's so empowering being a female racing in such a male-dominated scene, it's also a challenge to be taken seriously, especially at events like tech. I want to be respected as a driver who knows mechanics, who knows the course, as much as I'm respected as a girl. And it's hard to put yourself out there as a female driver and then separate yourself from just being considered an influencer," said Brook Lynn. "I don't want people to see my car and think the driver is a girl. I just want to take my helmet off at the end and have my blonde hair fall out!"
One thing she does love about being one of the few girls in off-road racing is the incredible support she receives. Other racers are supportive; other female competitors are supportive. Everyone loves the fact that more and more females are getting involved in the sport. 
Brook Lynn will be driving a Can Am x3 Turbo 1000 this year, sponsored by Evolution Power Sports, Shock Therapy, CST Tires, Deviant Race Parts, Chupacabra Offroad, Savage UTV, Pro eagle, Baja Designs, Seal Savers, Burn Fuel, Rugged Radios, HPR, VP Racing, and Raceline Wheels. Add her motto?
First finish to finish first.
Kimberly Loppnow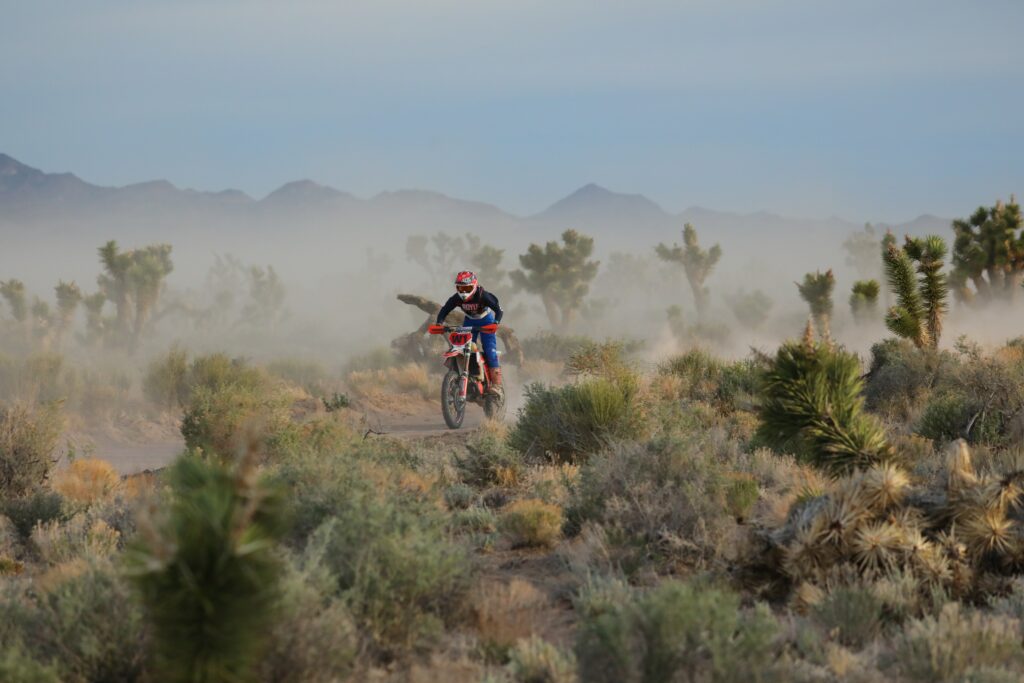 Kimberly Loppnow is riding high, just coming off a Championship Title win for the Female MC Class with her team. Team Pink consists of Kimberly Loppnow, Mica Diaz, Felicia Webb, Kenzie Smith, and Allie Stambaugh, who rode with the team in Vegas to Reno, and they've been racing together since 2014.
To start off, Kimberly only raced GPs, and a lot of the girls on Team Pink actually grew up racing against one another. They've only been desert racing since 2020, but they're all drawn to it. It just takes a little bit of extra coordination and commitment to travel together to events. 
Kimberly's first race with Best In The Desert was in 2014 before the association created a women's class. She raced Open Expert Class and felt that she was always chasing after the win. But she's happy that there is now a separate class. 
"I like the Women's M/C Class. I feel like even though we are competing against each other, we are still all there for one another. Like, the Stout sisters are probably our top competitors but they've stopped on the course and helped us when we needed it. And we've given their team a tire in the pit before. I feel like that doesn't happen in the other classes."
Kimberly has looked up to a lot of other female racers who have come before her. She remembers as she was getting her start, Ashley Fiolek was the female motocross racer to be. She considered Ashley a mentor. She also reminisced about Sarah Price who helped Kim get her foot in the door. She feels like Sarah paved the way for all female racers, really putting in the hard work to be taken seriously in the off-road industry. 
She does see that female competitors have to be both racers and marketers, getting themselves sponsors and also making sure to train and prepare for events. She feels like some women have to work a bit harder to make sure they can afford to race.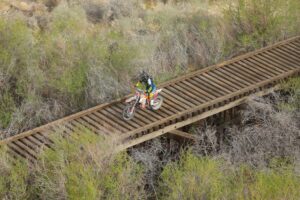 So what's next for Kimberly Loppnow? Well, she keeps busy with her kids, including her own nine-year-old daughter Skylar who also rides and competes. But she doesn't want to push racing on her; she wants her to enjoy it and feel stoked to be on the podium. 
"My goal for next year is to defend the red plate and keep learning about desert racing. I love the W15 team and even though we all compete against each other, like at the Hare and Hound, we love riding together too."
Kim enjoys racing the Best In The Desert series. Everyone is very supportive and the events are well-organized and easy to compete in. She's ready for 2022!
The Woman's MC Class at Best In The Desert continues to grow, and more and more women are joining the ranks in UTV and car classes. The females who race Best In The Desert know one another, respect one another, and will never hesitate to stop their race to help. 
While seeing women compete may be new to some racers, these women are not new to the sport. Many have grown up in the industry and know their way around the garage. They are serious competitors and fellow racers better watch their tailpipes!
Thanks to our sponsors!