25th Anniversary Maxxis Tires "Casey Folks" Vegas to Reno Presented by Fox Sets New Entry Record, Top Names to Compete | Time Trials Live Broadcast Set for Wednesday August 11, 2021
Posted August 5, 2021
FOR IMMEDIATE RELEASE: LAS VEGAS, NV (August 5, 2021): Best In The Desert is gearing up for the 25th Anniversary Maxxis Tires "Casey Folks" Vegas to Reno Presented by Fox set to start next Wednesday, August 11, 2021 with the Method Race Wheels Live Broadcast of V2R Time Trials. 
With 390 entries and counting, this will be the highest turnout in the history of Vegas to Reno. Each class will feature top names with strong showings particularly in Trick Truck, Class 6100, Class 1500, all the UTV Classes, and Motorcycle Classes. The event is the second round in 2021 The Maxxis Triple Crown which will lead to some huge payouts and bonuses for the various class winners at the end of the year. 
Bryce Menzies will be looking to enter the record books by winning the race overall for the third time in a row. The challenge is set, however, with a host of other Trick Truck entries ready to take Menzies on in the desert including reigning Best In The Desert series champion Kevin Thompson and Harley Letner in the #1 Concrete Motorsports truck as well as Tim Herbst, Ryan Arciero, Tracy Graf, Adam Householder, Kyle Jergensen, Steve Olliges, Sam Baldi, and newcomers Ken Block and Jax Redline.
The UTV field also drew a huge entry with over 130 UTVs entered in the race including (37) UTV NA Production entries, (25) UTV Unlimited Entries, (6) UTV Sportsman entries, (14) UTV Rally entries, two Pro Open, one UTV Pure Stock, and an impressive (44) entries in UTV Turbo Production.
Some of the best in the business are set to do battle. In UTV Turbo Production competition, defending V2R champs Phil Blurton and Beau Judge are taking on a who's who of UTV racing including Ryan Piplic, Seth Quintero, Marc Burnett, Brett Sourapas, Branden Sims, Justin Lambert, Brandon Schueler, Craig Scanlon, Mitch Guthrie, Austin Weiland, Randy Romo, Sierra Romo, Dustin Jones, PJ Jones and Santiago Creel.
UTV Unlimited Class competition is just as strong with reigning Best In The Desert champ Michael Isom, Chris Blais, Jim Beaver, Randy Raschein, Mike De Ley, and Wes Miller all racing for V2R glory. In fact all of the UTV classes are ultra-competitive and should make for a great day of racing
The Pro Open Motorcycle Class drew a field of (10) riders including 2020 Vegas to Reno Open Pro champ Ricky Brabec looking to repeat as the overall winner. Past Vegas to Reno winner Jacob Argubright is teaming with factory Husqvarna racer Dalton Shirey to challenge the defending champion. Factory Beta racers Joe Wasson and Zane Roberts, who are each taking the event on solo, will give these top riders a run for their money. Last but not least, defending Best In the Desert #1 plate holder Hayden Hintz and Trevor Hunter are looking to carve their place in history along with #N3 Jeff Trulove who is always a threat for the overall in Best In the Desert events.
All together, 106 motorcycle, quad, and three-wheeler teams will take on the iconic 25th running of Vegas to Reno. Speaking of three-wheelers, it will be the first time in a long time that three-wheelers compete which will make the race interesting indeed!
Class 6100 is another class to watch with (35) entries and counting including stars like Ray Griffith, Justin Blower, Brent Fox, Joseph Herling, Jerry Herling, Pierce Herbst, Dustin Graboski, Jordan Brenthel, Terry Householder, and Patrick Whitt, to name a few.
Racers in Class 1500 will also vie for top overall positions with Best In the Desert regular Sam Berri racing in his 25th V2R not missing a single event since the inaugural race in 1996. Other top teams include #1501 defending 2020 Best In The Desert series champ Michael Frye, CJ Hutchins, and James Dean.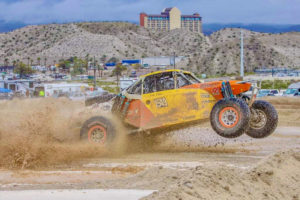 "We are pumped to see such a large turnout for our flagship event," commented Best In The Desert CMO Bryan Folks. "It's great to see the racing community come together and participate in the race that launched Best In The Desert as a Truck/Car series. I am sure my dad would be very pleased to see how the event has grown. We invite everyone to tune in on Wednesday August 11th for the Method Race Wheels Live Broadcast of Time Trials. We are grateful for not only their support but that of Shock Therapy, Rugged Radios, Beta Motorcycles, Fusion, and all our other sponsors who make our series possible."
Event Schedule Highlights
Method Race Wheels Live Broadcast of Time Trials: Wednesday, August 11, 2021 9 AM – 4PM
Seven full hours of live coverage of top Car, Truck, UTV, and Motorcycle Teams: https://bitd.com/live-tracking/
Additional Live Broadcast sponsors include Shock Therapy, Rugged Radios, Fusion and Beta Motorcycles
Race Day: Friday, August 13, 2021 5:30 AM
Live coverage will begin with the lead motorcycle from start to finish, featuring various sections on the way. Follow along via the Best In The Desert Facebook page.
For a more detailed schedule of the 25th Anniversary Maxxis Tires "Casey Folks" Vegas to Reno Presented By Fox visit the event page: https://bitd.com/race-event/2021-vegas-to-reno/
###
Thanks to our sponsors!