2021 Maxxis Tires "Casey Folks" Vegas to Reno Presented by Fox: The Largest, Toughest, Most Competitive V2R Ever! | Shirey/Argubright Take Overall Motorcycle Win, Arciero Takes Hard-Earned Trick Truck Class, Weiland First UTV
Posted August 16, 2021
FOR IMMEDIATE RELEASE: LAS VEGAS, NV (August 16, 2021): The 2021 Maxxis Tires "Casey Folks" Vegas to Reno Presented by Fox featured a record entry of 406 highly-competitive teams who made the event the largest and most ambitious V2R race yet.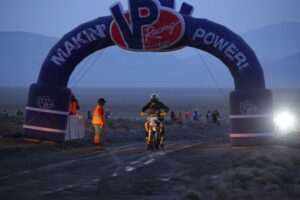 Course conditions were the first topic of conversation for each competitor as they crossed the finish line. Recent thunderstorms, the route selected, including the notoriously grueling final section, made this year's Vegas to Reno course extremely challenging. With points towards Maxxis Triple Crown prize money at stake, Best In The Desert's normal purse, and the title of Vegas to Reno champion, racers were throttling hard and fast to be first.
In the end, Dalton Shirey/Jacob Argubright riding a Factory Husqvarna were the first Open Pro Motorcycle team, staving off challenges from Dakar and reigning V2R champ Ricky Brabec and the Kilmartin Racing N1 Hayden Hintz/Trevor Hunter team to take not only the overall motorcycle victory but the outright overall victory in a time of 7:44:10. Shirey/Argubright broke the tie between motorcycles and cars/trucks and earning bragging rights for the record of most overall wins at V2R, now 13 for motorcycles and 12 for cars/trucks.
As for the Car/Truck Class, Ryan Arciero truly was a phoenix rising from the ashes winning with a brand new truck in 7:56:49 after his previous one burned to the ground at last year's V2R. Arciero's win did not come easy as two-time defending champion Bryce Menzies was hungry and leading overall until Pit 11 where a front differential issue caused him to drop out. Best In The Desert favorite and veteran Trick Truck racer Steve Olliges put in one of the best races of his career coming home second in 8:10:10 edging Black Rifle Coffee's  BJ Baldwin out by a mere 44 seconds who finished in third place, respectively.
Meanwhile, Brenthel Racing's Kyle Jergensen was never out of the hunt for the overall, finishing fourth in Trick Trucks. The #1 Concrete Motorsports Thompson/Letner team's phenomenal streak of overall wins finally came to an end after a rear-start position resulting from a crash in Time Trials put them at a severe disadvantage. However, they still came back to finish seventh in class with a time of 8:32:22; an impressive feat. The 2021 Trick Truck Class was made up of a who's who of off-road racing, an example of what the off-road racing sport has become.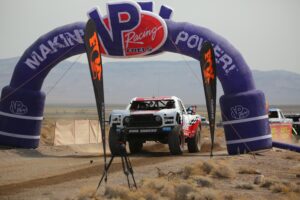 Class 6100 was another barn-burner of a race with #6172 Dustin Grabowski taking home the win after years of coming oh-so-close, finally putting everything together to finish in 8:08:06. Brent Fox switched his Class 1500 ride for a 6100 entry and came home second in 8:22:14 with Brenthel Racing's own Jordan Brenthel rounding out the podium just two minutes back at 8:24:16 just an amazing 3/10ths of a second separating him from fourth place finisher #6164 Pierce Herbst and defending V2R Class 6100 champ #6153 Ray Griffith in fifth place with a time of 8:24:45. 
The ever-growing Class 6200 was won by #6201 Nick Carolan in 8:22:42 followed by Austin Largent in 9:05:20 and Conner McMullen who suffered technical issues but still persevered for a finish. For the first time in a while, the Class 6100 winner set fast time against the 6200s.
Turnout in Class 1500 was phenomenal with 11 racers taking the start. The James and Jordan Dean #1575 car was first across the line with a time of 8:10:32 followed by Sam Berri in 8:27:51, his 25th Vegas to Reno having never missed a race since 1996. Third place went to Morgan Langley in 9:05:58.
Class 1000 was fully loaded with 13 top teams and drivers. In the end, Matt Rusich in the #1045 car took the class win in a time of 8:48:16. Second went to Wheeler Morgan just barely over five minutes behind in 8:53:56. John Van Hattem rounded out the podium in third place with a time of 9:13:11.
Jeff Proctor had his #7209 Honda Ridgeline hitting on all cylinders and finishing in a time of 9:06:06 to take Class 7200. The Proctor Racing Team has had a phenomenal year winning wherever they go.
Other Car/Truck Class entries of note include Class 7300 won by Sean Berryman in 13:00:11 and of course it would not be Vegas to Reno without a "Hall" in the winner's circle with Chad Hall knocking down the Class 1200 win in his painfully stock Chevrolet in 12:58:36.
In the Jeepspeed competition, Class 4700 was won by Andrew Hulse and Class 1700 by Tim Martin, respectively. Craig Christy won Vintage C/T Class 4500 in his ultra-clean Chevy truck in 15:38:41. TrophyLites was a battle between #6012 Greg Bragg finishing in 11:03:00, #6077 Luke Knupp in 11:29:28, and #6013 John Ferrari in 11:43:26.
A record turnout of 135 UTVs entered the 2021 Maxxis Tires "Casey Folks" Vegas to Reno Presented by Fox with all four main pro classes UTV Turbo Production, UTV Unlimited, UTV Open, and UTV Production N/A loaded with the best teams the sport has to offer. A record 44 UTV Turbo Production entries started the race. Throughout the day, as many as eight different teams had a legitimate shot at the class win. 
When the dust settled, Can-Am's Austin Weiland took the hard-earned victory with a time of 8:49:43 and 29th overall, an excellent example of how far UTVs have come since they entered the scene. Dustin Jones in the T978 Can-Am was a mere three minutes behind in 8:52:49 followed by Branden Sims in the T913 Polaris. Four-time defending V2R UTV Turbo Production Class champ Phil Blurton had a tough day suffering a serious illness and mechanical issues while the UTV Pro Open Class was won by Can-Am's Dan Fisher and the UTV RS1 NA class was won by Polaris racer Jonathan Mcvay in 11:04:48 followed by Jimmy Rodriguez and Jared Cozzocrea.
The UTV Unlimited Class was ultra-competitive with 26 entries including 2021 Jimco Racing Silver State 300 champion Chris Blais who battled up front for most of the race with Randy Raschein, Jim Beaver, and Michael Isom. Shortly before Pit 11, the Blais team suffered mechanical issues and DNF leaving Can-Am's Randy Raschein in the lead which he held to the finish, winning the class in a time of 9:50:54 followed by Jim Beaver in his Polaris in 9:52:40 and defending 2020 Best In The Desert UTV Unlimited Series champ Can-Am mounted Michael Isom in third in 10:10:30.
The UTV Production N/A class drew a 40 entry field and was won by Carson Wernimont in his Kawasaki who kept his class win streak alive putting in a great race and finishing in 9:49:54. Wernimont had to put in a great race because right on his tail was JD Marsh in his Polaris just two minutes behind. Polaris racer Dodge Poelman came home a very well-deserved third with Honda's Elias Hanna in fourth.
U927 Jack Olliges, son of Trick Truck legend Steve Olliges, showed he will be a force to be reckoned with by winning the UTV Rally class in 10:34:34. He was followed across the line by Jacob Zuccone in a time of 10:52:19 and UFC Fighter Donald "Cowboy" Cerrone in 11:01:44. The UFC legend is taking on off-road racing with the same attitude and grit that made him the most decorated fighter in UFC history.  
Other class winners and finishers of note in Motorcycle Classes were the Over-30 Pro team led by Danny Cooper, wrapping up yet another V2R Class win. The Over-40 Pro Class was won by Chris Fry while Ironman Pro went to Dustin Ashe-Everest. Taylor Stevens is having an incredible year by winning the 2021 V2R 399 Pro Class. The highly competitive Women's Motorcycle Class was won by the Ashlee Gage, Kari Erickson, and Rebecca and Rachel Stout KTM mounted team in 10:12:28.
In Quad Pro Competition a field of five entries left the starting line with Jose Roberto Villalobos, Travis Damon, and Beau Baron taking home the win followed by Dylan Walraven and Daulton Keyes in second and Humberto Valenzuela in third. Not to be outdone by their four-wheel counterparts, the 2021 Maxxis Tires "Casey Folks" Vegas to Reno Presented by Fox boasted three fan-favorite three-wheeler entries with Wrangell Gubler winning the class in 14:34:25.
Last but not least, and certainly most watched on the Facebook live stream, the final vehicle to cross the line of the 2021 Maxxis Tires "Casey Folks" Vegas to Reno Presented by Fox was the #8197 Class 11 Subaru driven by John C. Frana, Ryan Brumund, and Dallas Van Wyk. Finishing in 17:40:37, the well-loved Subaru was definitely a crowd favorite.
"Without question, the 2021 Maxxis Tires 'Casey Folks' Vegas to Reno Presented by Fox lived up to all the hype and delivered as one of the premier motorsports events in North America this past weekend," commented Best In The Desert CMO Bryan Folks. "From our historic Method Race Wheels Live Broadcast of V2R Time Trials we set a tone for professionalism and excitement that only off-road racing can provide. Our Race Operations team has been working hard for this result and we are very pleased that so many racers chose to come join us in this great adventure. I am quite sure our father Casey Folks is pleased with the final result. I want to thank our staff, volunteers, sponsors, and racers for believing in our mission and helping make this the biggest V2R ever."
"The last week has literally been one of the most challenging yet rewarding weeks in all my life," said Best In the Desert Race Operations Director Jeff Phillips. "We are grateful and honored that so many chose to join us and continue to believe in us. Seeing all the smiling faces at the finish line made all the long hours, blood, sweat, and tears more than worth it. And while we are quite pleased and gratified by all the positive comments, we are already thinking about things we can do to make next year's V2R even better. I want to thank my staff, our volunteers, our sponsors, and most especially, all the racers who showed up to take on one of the toughest challenges in off-road racing."
"This year's V2R not only lived up to its reputation as the largest and longest single-day off-road race in the U.S., it would also appear it might have been the toughest," stated Best In The Desert CEO Daryl Folks. "I'm pretty sure my dad wouldn't have wanted it any other way. The Best In The Desert team, our staff, and volunteers put an enormous amount of effort into this race and it was great to see a record number of racers come out to support the event my father launched some 25 years ago. I want to thank everyone involved. We have been working extremely hard these past two years to keep off-road racing alive and viable during the pandemic and we are happy to see some light at the end of the tunnel. I am confident things will only get better from here. Thanks to everyone who participated in the race."
Results for all the classes can be found at https://bitd.com/race-results/.
Best In The Desert is already preparing for the next race, the All Terrain Concepts UTV Legends Championships on September 9-12, 2021 in Laughlin, Nevada. More information and registration can be found here: https://bitd.com/race-event/2021-utv-legends-championship/.
###
Thanks to our sponsors!