2022 Shock Therapy UTV Legends Championship Presented by Laughlin Set to Run Feb. 18-20, 2022
Posted February 15, 2022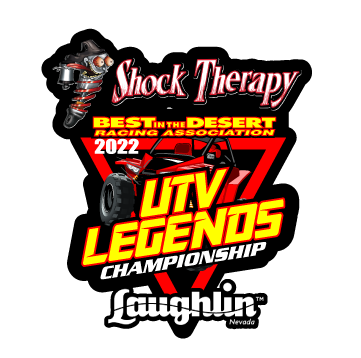 FOR IMMEDIATE RELEASE: LAS VEGAS, NV (Feb. 15, 2022): The Shock Therapy UTV Legends Championship Presented by Laughlin is scheduled to run Feb. 18-20, 2022 in Laughlin, Nevada. 
The Race of Champions is open to Motorcycle, Quad, and UTV Classes. While there won't be time trials, there will be an opportunity for Youth UTV competitors to compete on Friday, Feb. 18, 2022. Young, upcoming racers Chase Mankin and George Llamosas are already registered.
Saturday's racing featuring Motorcycle/Quad Classes and both UTV desert races will be live-streamed courtesy of JETWERX and can be viewed online or on the RYDE TV app. The coverage will also be featured on a one-hour CBS Sports Network show to be aired at a later date to be announced. 
The 2022 Shock Therapy UTV Legends Championship Presented by Laughlin will feature grand Prix-style racing. When the overall leader crosses the finish line, the race is finished for all classes regardless of the number of laps completed. 
The event schedule starts with the Youth UTV race on Friday, Feb. 18, 2022. Saturday, Feb. 19 will see the Motorcycle Classes kicking things off first thing in the morning with UTV Classes to follow including Trophy Unlimited, Super Stock, and Sportsman UTV Classes. The final race of the day will be the highly-anticipated UTV Turbo Production Class and NA Production. 
UTV racing on Sunday will be on the short course which requires its own set of skills and will be fun to watch. Spectating is welcome on all courses throughout the weekend with no formal COVID restrictions. 
Top Motorcycle pros to watch race on Saturday include Beta's Joe Wasson, BITD Series Class Champion Hayden Hintz, and Jeremy Newton coming off a second-place finish in the 2022 Shock Therapy Parker 250 Presented by Jimco Racing. 
Top UTV N/A Pros to watch include RaceCo's Michael Sandoval, BITD's second-place Rookie of the Year Angie Mitchell, and Quad Pro champ Josh Row.
Finally, the UTV Pro Classes will be stacked with top racers including last year's BITD champ Ryan Piplic, fourth-place finisher last year Bruce Binnquist, young racer Mikey Kelly, Red Bull's Seth Quintero, RZR Factory Racing's Branden Sims, Can-Am's Jason Murray, Shock Therapy founder Justin Smith, three-time BITD Champion Phil Blurton, top-contender Vito Ranuio, Dakar racer Mitch Guthrie Jr., Can-Am's Dustin Jones, female Pro SXS Racer Sierra Romo, Red Bull and Dakar racer Chris Blais, Lonestar Racing owner Dan Fisher, Down and Dirty host Jim Beaver, MMA fighter Donald "Cowboy" Cerrone, always-in-front Mike DeLey, and multi BITD event champion Mitchell Alsup.
The UTV Legends Championship has a long and beloved history in the town of Laughlin, Nevada. Best In The Desert staff, racers, and fans love visiting Laughlin for events which include Tech and Contingency in Downtown Laughlin, and plenty to do in and around town against the backdrop of the beautiful Colorado River. 
The Tropicana Laughlin is the host hotel for the 2022 Shock Therapy UTV Legends Championship Presented by Laughlin. Visit the event page for more details including the Group Code and discounted room rates. 
For a full schedule of events, visit the events page: https://bitd.com/race-event/2022-utv-legends-championship/
The next Best In The Desert event will be the 2022 Adelanto Grand Prix in Adelanto, CA on March 17-20, 2022. Details can be found on the event page: https://bitd.com/race-event/2022-adelanto-grand-prix/
###