2020 Jagged X National Desert Cup
Quantum Motorsports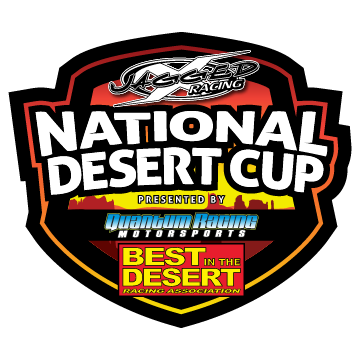 2020 Jagged X National Desert Cup
Presented by Quantum Motorsports
"A DESERT RACE IN A CLASS OF ITS OWN"
MOTORCYCLE
QUAD
UTV
Laughlin, NV
17 Mile Loop
FAMILY POKER RUN/UTV'S ONLY
Jagged X National Desert Cup presented by Quantum Motorsports is an epic race for Best In The Desert, we are proud to bring you this great event for UTV's, Motorcycles and Quads. New Sponsor, New Name, New Format!!!! The Laughlin Tourism Commission is stepping up and sponsoring this event along with Jagged X & Quantum Motorsports.  More information coming soon! The event will be March 20-22, 2020!
Wednesday, March 4, 2020
Draw for start positions - get your entry in by Tuesday March 3!
Friday, March 20, 2020
Poker Run, Registration, Tech, Contingency, Youth Race, Driver's Meeting
Saturday, March 21, 2020
Race Day for Desert UTVs, Motorcycles & Quads
Sunday, March 22, 2020
Race Day for Short Course UTVs & Awards Ceremony
General Information
1st Letter – general information about the event – more info coming March 4th
FAQ – Information about the NEW Format – updated 2/26 (Rally/Spts & Main event Lap counts)
Registration & Forms
Minor Waiver – if you are under 17 please have this form notarized. You can mail it in or bring with to Registration.
Hotel & Lodging
Hotel Group Codes:
Tropicana Laughlin – group code: # 6634 – Reservations (800) 343-4533 – Cut off date – March 5th 
Aquarius – group code: GRBITD2 – Reservations –  (800) 662.5825
Colorado Belle – group code: GRBITD2 – Reservations (866) 352-3553
Edgewater – group code: GRBITD2 – Reservations (702) 298-4000
Laughlin River Lodge – group code: LRLBITD2020 – Reservations – 800-835-7903
The New Pioneer – group code: RACE320 – Reservations – 800-634-3469
Expo Vendor Information
Fill out the Expo Form HERE