2020 Jagged X National Desert Cup
Quantum Motorsports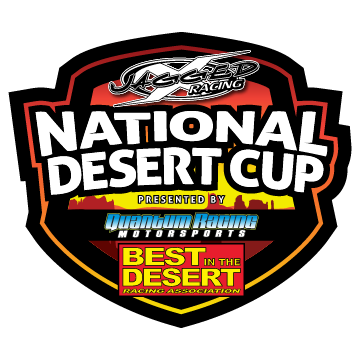 2020 Jagged X National Desert Cup
Presented by Quantum Motorsports
"A DESERT RACE IN A CLASS OF ITS OWN"
MOTORCYCLE
QUAD
UTV
Laughlin, NV
17 Mile Loop
FAMILY POKER RUN/UTV'S ONLY
*** New Race Event Date Announced *** Jagged X National Desert Cup presented by Quantum Motorsports is an epic race for Best In The Desert, we are proud to bring you this great event for UTV's, Motorcycles and Quads. New Sponsor, New Name, New Format!!!! The Laughlin Tourism Commission is stepping up and sponsoring this event along with Jagged X & Quantum Motorsports.  More information coming soon! The event will be September 24-27, 2020!
Wednesday, March 4, 2020
Draw for start positions - get your entry in by Tuesday March 3!
Friday, March 20, 2020
Poker Run, Registration, Tech, Contingency, Youth Race, Driver's Meeting
Saturday, March 21, 2020
Race Day for Desert UTVs, Motorcycles & Quads
Sunday, March 22, 2020
Race Day for Rally & Sportsman, Short Course UTVs & Awards Ceremony
General Information
1st Letter – general information about the event – more info coming March 4th
FAQ – Information about the NEW Format – updated 3/4 (Rally/Spts  schedule change)
Desert Race GPS Links are posted above in the links. Below are the Short Course GPS files
Garmin- Short Course
Lowrance – Short Course
Registration & Forms
Entry List – as of 3/9 – please send us updates by March 9th 
Draw Order – as of 3/9
Poker Run – *** Registration will be open in August for this Poker Run*** Want to register just for Poker Run? Follow this link to sign up! Bring your family and show them the course.
Additional Driver – if you have registered online and need to add or change a driver please fill out form and email to BITD@BITD.com – only need to fill out one section per additional person
Motorcycle/Quad – Entry Form
UTV – Entry Form  Both Desert Race & Short Course
Youth – Entry Form
Minor Waiver – if you are under 17 please have this form notarized. You can mail it in or bring with to Registration.
Final Information
Pit Crew – Please have pit crew sign waiver – everyone needs a band in Hot Pit & Main Pit
Dangers – 17 mile course only
Tech Route Rules – you can drive you race vehicle from Main Pit to Tropicana. MC & Quads please wear helmets!
Family Poker Run
The Jagged X National Desert Cup Presented by Quantum Motorsports will also include a stock-UTV-only Family Poker Run. All participants in the Family Poker Run will be randomly entered into a prize pool and the event may even be open to the general public in addition to racers! That way everyone from racing veteran to young newcomer to the enthusiastic fan can participate and see what it's like to run a Best In The Desert course.
Register for Family Poker Run
Spectators
Spectator Map – areas you can spectate 
Parking – please use the parking area on Bruce Woodbury just west of Thomas Eddison. $5 Donation for parking.
Hotel & Lodging
Hotel Group Codes:
Tropicana Laughlin – group code: # 6634 – Reservations (800) 343-4533 – Cut off date – March 5th 
Aquarius – group code: GRBITD2 – Reservations –  (800) 662.5825
Colorado Belle – group code: GRBITD2 – Reservations (866) 352-3553
Edgewater – group code: GRBITD2 – Reservations (702) 298-4000
Laughlin River Lodge – group code: LRLBITD2020 – Reservations – 800-835-7903
The New Pioneer – group code: RACE320 – Reservations – 800-634-3469
Expo Vendor Information
Fill out the Expo Form HERE