2022 Shock Therapy Parker 250
Presented by BlueWater Resort Hotel & Casino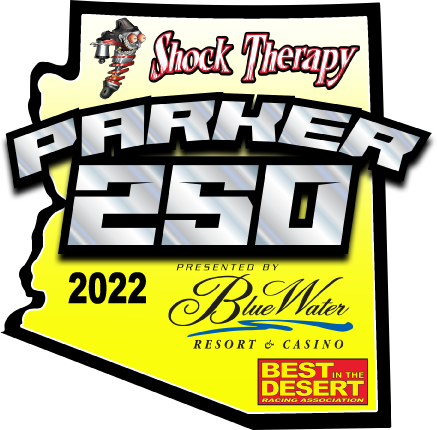 2022 Shock Therapy Parker 250
Presented by BlueWater Resort Hotel & Casino
MOTORCYCLE
QUAD
UTV
Thursday January 6th, 2022
10:00 AM to 5:00 PM– Time Trials – MC Open Pro, UTV Pro Turbo, Pro NA & Trophy Unlimited
Registration on Site – La Paz County Fair, 21600 Hillside Drive, Parker, AZ 85344
10:00 AM – 12:30 PM         Registration
12:30 PM – 1:00 PM           Staging
1:00 PM – 2:00 PM             Escort Lap – All Time Trials Entrants
2:00 PM – 5:00 PM             Group A: Open Pro MC
                                                Group B: All Pro UTV Classes 
7:00 PM                                 Qualifying Party – Results to be posted at Location – TBD
Friday, January 7th, 2022
9:00 AM to 5:30 PM – Registration, Contingency, Tech Inspection & Event Expo
Registration & Contingency- Parker Senior Center- 1115 W 12th St Parker, AZ 85344
Tech & Event Expo Inspection- Parker Downtown Experience (See Map for Designated Off-Load Area)
9:00 AM – 11:00 AM         Youth UTV *No other Classes will be allowed in tech during this time*
11:00 AM – 2:00 PM        UTV Pro Turbo / Pro NA
2:00 PM – 5:00 PM           UTV Trophy Unlimited / Super Stock / Sportsman
2:00 PM – 5:00 PM           Motorcycle & Quad
9:30 AM – 10:30 AM Media / Helicopter & Drone Meeting    
Attendance is Mandatory – Parker Senior Center – 1115 W 12th St, Parker, AZ 85344
9:30 AM – 10:00 AM Helicopter & Drone Meeting
10:00 AM – 10:30 AM Media Meeting
12:00 PM – 5:45 PM – Youth Races
Parker South Fair Grounds 21600 Hillside Drive, Parker, AZ 85344
12:00 PM– Youth 170 Prod, 170 Mod & 250 Mod Race Staging
12:15 PM – Drivers Meeting on Start Line
12:30 PM – 12:45 PM Site Lap
12:45 PM – 1:15 PM Race #1 Start
1:00 PM – Youth 570 Prod & 570 Mod Staging
1:15 PM – Drivers Meeting on Start Line
1:30 PM – 1:45 PM Site Lap
1:45 PM – 2:15 PM– Race #2 Start
2:00 PM – Youth 800 Mod & 1000 Prod Race Staging
2:15 PM – Drivers Meeting on Start Line
2:30 PM – 2:45 PM Site Lap
2:45 PM – 3:30 PM – Race #3 Start
6:00 PM to 8:00 PM – Meetings / Youth Awards
 Attendance is Mandatory – Parker High School 1600 S Kofa Ave, Parker, AZ 85344
5:30 PM – 6:00 PM Volunteer Meeting
6:00 PM – 7:00 PM Youth UTV Awards
7:00 PM – 8:00 PM Drivers Meeting
Saturday, January 8th, 2022
1st RACE – Motorcycle and Quad Race
7:00 AM – Staging at Start Line – *see attached map of Shea Road Main Pit
7:30 AM – Motorcycle/Quad Race Starts
Please allow additional time to get to the Main Pit / Start Line from town
2nd RACE – UTV Race
12:15 PM – Staging at Start Line – ** see attached map of Shea Road Main Pit
12:45 PM – UTV Race Starts
Please allow additional time to get to the Main Pit/Start Line from town
Registration & Forms
Additional Driver / Rider Form if you have registered online and need to add or change a driver please fill out form and email to bitd@bitd.com.
Minor Waiver– If you, or anyone on your team, that is anyone getting into the race vehicle, is 17 or under please have this form notarized prior to the race. You can mail it, email it, or bring it in to registration. 
Pit Crew Liablity Waiver– Everyone in your pit must sign this before entering. At registration, you will be given wristbands for each signature. We will be checking for wristbands upon entry. If your support team does not have a wristband, they will not be allowed in.
Media Requirements
Any Media requests, must be filled out and returned 10 days prior to the event 
Helicopter/Drone Meeting – Friday January 7th, 2022 9:30 AM
Media Meeting – Friday January 7th, 2022 10:00 AM
Pit Support
Get your fuel pre-ordered from VP Racing Fuels by clicking here! 
Baja Pits will be at all Pits – Email or call Carlos at: (619) 921-8978, uswheel@aol.com, or Taylor @ (410) 804-4567 tbajapits@gmail.com
Hotel & Lodging
Camping will be allowed near the Main Pit on either side of Shea Road and within the Main Pit. Space is limited but on a first come first serve basis, so please only use what you need and leave room for others. See vicinity map.
Volunteer Information
2022 Parker 250 Volunteer Form– Come out and be a part of TEAM BITD! Please have this filled out prior to Oct. 31st. You can either mail a printed copy to the BITD office or email this form in to the Volunteer Coordinator Cyndie Parks at contingency@bitd.com . Your participation gets you an Event T-Shirt, pins, stickers and extra swag!
Contingency
PLEASE Fillout the forms TODAY and email back to contingency@bitd.com before January 3rd, 2022 . We will be packaging them up for you to pick up at the Contingency Booth in the Registration Room. We are going on the honor system so please be truthful on what you run and the decals you have. We will be taking forms on site and we will have decals, however they are limited to first come first serve, so in the spirit of preparedness please have your forms in by the due date.
2022 Contingency – MC / Quad – Updated 12/1/21
2022 Contingency- UTV – Updated 12/29/21
2022 Contingency – Youth UTV – Updated 12/1/21
FORD Contingency Registration – You MUST pre-register online using the below link.
Racing Trax
RacingTrax.com – Register for your tracking unit when registration opens. Same day, on site, registration late fee is $25 Mandatory for All Classes except Youth. This is separate from your transponder. You will pick up the unit onsite and they will install it. If you need a bracket order today so you can install it before the event.